This site complies with the HONcode standard for trustworthy health information:
verify here.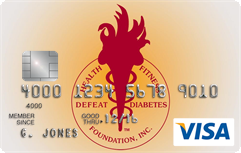 Rewarding for
you and us
Defeat Diabetes Foundation
Defeat Diabetes
Foundation
150 153rd Ave,
Suite 300
Madeira Beach, FL 33708
Other Diseases
Search our News Articles Archives for diabetes and health news. Search by word or phrase. The latest article will appear first.
Exercise Test Predicts Death in Patients with Coronary Artery Disease
Posted: Friday, December 02, 2005
VO2max is the maximum amount of oxygen a person can take in during exercise. Exercise capacity, as measured in terms of VO2max, is a powerful predictor of death in patients with coronary artery disease, not just patients with heart failure


Diabetes Linked with Risk of Sudden Cardiac Death
Posted: Monday, November 28, 2005
Diabetes is a "strong" risk factor for sudden cardiac death, with the risk increasing with the severity of the disease.


High Colon Cancer Risk With Diabetes Confirmed
Posted: Monday, November 28, 2005
Men and women with diabetes are at increased risk by 30% for developing cancer of the colon and rectum, according to a report from Sweden


Diabetes Raises Colon Cancer Risk
Posted: Friday, November 11, 2005
Diabetics are 1.4 times more likely to have been told they have colon cancer,"


Glucose Metabolism in the Brain Accurately Predicts Alzheimer's
Posted: Thursday, October 13, 2005
Positron emission tomography (PET) imaging of glucose metabolism in the brain can accurately predict which patients with mild cognitive impairment will progress to full-blown Alzheimer's dementia. PET proved more accurate than screening for genetic predisposition to Alzheimer's,


Diabetes Linked to Bowel Cancer
Posted: Monday, October 03, 2005
New study suggests that people with diabetes could be up to three times more likely to get bowel cancer.




Diabetes Raises Risk of Colorectal Cancer
Posted: Thursday, August 25, 2005
Risk of colorectal cancer in men with diabetes was 49% higher than that in men who didn't have diabetes, results from a study of 45,000 men.


Folate Protects Against Stroke Independently of Homocysteine Levels
Posted: Thursday, August 18, 2005
Folate may offer extra protection against stroke, on top of reducing levels of an amino acid related to the incident.




Diabetes Raises Pancreatic Cancer Risk – Study
Posted: Tuesday, August 16, 2005
For three years after their diagnosis with diabetes, patients have eight times the risk of developing pancreatic cancer, the study at the Mayo Clinic Cancer Center found


A New Risk Factor for Heart Disease
Posted: Friday, July 22, 2005
An ordinarily benign fat that coats blood vessels can turn into a risk factor for heart disease when it combines with oxygen.

The finding could lead to new ways of preventing heart disease.



Costa Rica Travel Corp. will donate a portion of the proceeds to and is a sponsor of Defeat Diabetes Foundation.
Send your unopened, unexpired test strips to

:


Defeat Diabetes Foundation
150 153rd Ave, Suite 300
Madeira Beach, FL 33708
DDF advertisement
Analyze nutrition content by portion
DDF advertisement