This site complies with the HONcode standard for trustworthy health information:
verify here.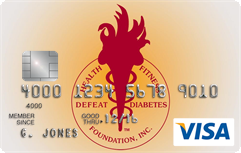 Rewarding for
you and us
Defeat Diabetes Foundation
Defeat Diabetes
Foundation
150 153rd Ave,
Suite 300
Madeira Beach, FL 33708
Obesity » Diet
Search our News Articles Archives for diabetes and health news. Search by word or phrase. The latest article will appear first.
Low-Carb Diet May Increase Bad Cholesterol Levels
Posted: Sunday, March 07, 2010
Cutting down on carbs may help people lose weight, but it may not be so good for lowering cholesterol, new research shows.


Unfit at 20, Diabetes at 40
Posted: Sunday, February 28, 2010
Twenty-somethings who aren't physically fit may be at an increased risk of developing diabetes in middle age, researchers said.


Lasting Benefit Seen for Lifestyle Changes, Metformin in Diabetes
Posted: Sunday, February 28, 2010
For people at risk for Type 2 diabetes, a combination of diet, exercise and, to a lesser extent, treatment with metformin can help keep the disease at bay for 10 years, researchers said.


Diabetes Tied to Poor Impulse Control
Posted: Sunday, February 21, 2010
Patients with newly diagnosed Type 2 diabetes were significantly more likely to show poor impulse control in psychological testing than healthy people, researchers said. The findings could help explain why diabetic patients find it difficult to make the recommended lifestyle adjustments such as avoiding high-fat foods and maintaining daily exercise.


Metformin Decreases BMI in Pre-Diabetic Adolescents
Posted: Sunday, February 14, 2010
Metformin XR (extended release formulation) appears to cause a decrease in body mass index (BMI) in non-diabetic obese adolescents when combined with a lifestyle intervention program.


Normal Glucose Greater than 85mg/dL in Kids Predicts Diabetes Later
Posted: Sunday, February 14, 2010
Increases in fasting plasma glucose during childhood -- even though levels remain in the normal range 85-100mg/dL.) -- can predict adult prediabetes and Type 2 diabetes later in life, a retrospective cohort study showed.


Preventing Diabetes for Ten Years Plus
Posted: Sunday, February 14, 2010
Ten-year follow-up of diabetes incidence and weight loss in the Diabetes Prevention Program Outcomes Study.


Overeating Destroys Normal Metabolism and Sets Stage for Diabetes
Posted: Sunday, February 14, 2010
Overeating triggers a molecule once considered to be only involved in detecting and fighting viruses to also destroy normal metabolism, leading to insulin resistance and setting the stage for diabetes.


Caloric Restriction with or without Exercise: The Fitness versus Fatness Debate
Posted: Sunday, February 14, 2010
There is a debate over the independent effects of aerobic fitness and body fatness on mortality and disease risks.


Obesity at Seven Years of Age Increases Risk of Later Cardiovascular Disease
Posted: Sunday, February 14, 2010
By as early as seven years of age, being obese may raise a child's risk of future heart disease and stroke, even in the absence of other cardiovascular risk factors such as high blood pressure, according to a new study.


Costa Rica Travel Corp. will donate a portion of the proceeds to and is a sponsor of Defeat Diabetes Foundation.
Send your unopened, unexpired test strips to

:


Defeat Diabetes Foundation
150 153rd Ave, Suite 300
Madeira Beach, FL 33708
DDF advertisement
Analyze nutrition content by portion
DDF advertisement