This site complies with the HONcode standard for trustworthy health information:
verify here.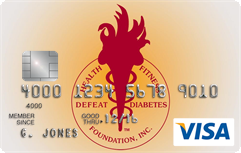 Rewarding for
you and us
Defeat Diabetes Foundation
Defeat Diabetes
Foundation
150 153rd Ave,
Suite 300
Madeira Beach, FL 33708
Obesity » Type 2
Search our News Articles Archives for diabetes and health news. Search by word or phrase. The latest article will appear first.
Study Shows Leptin Combats Type 2 Diabetes
Posted: Thursday, September 28, 2006
University of Florida researchers have discovered the appetite-controlling hormone leptin could also combat type 2 diabetes as more Americans pack on extra pounds.


Don't Supersize: NIH Study Shows Eating French Fries Increases Risk for Diabetes
Posted: Thursday, September 28, 2006
84,555 registered female nurses were followed up for 20 years and they found that eating potatoes, especially french fries, is associated with an increased risk of developing Type 2 diabetes. See McDonald's answer to the results.


Man Walking To Raise Awareness of Diabetes
Posted: Monday, September 25, 2006
Andy Mandell has insulin dependent diabetes, but he is not letting that stop him. He wanted to inform people about Type 2 Diabetes, so he went for a walk. He has completed more than 7,650 miles with the last leg of tour ahead of him. He has 10,000 miles to cover.



Dream Study Results Positive, but LifeStyle Intervention Better
Posted: Thursday, September 21, 2006
With less side effects then in the Dream Study and a much lower cost, study shows weight loss is the key factor in reducing diabetes risk for high-risk, overweight individuals.


Galvus® Demonstrates Powerful Blood Sugar Reductions In Phase III Studies
Posted: Thursday, September 21, 2006
Galvus dropped A1c by 1.8% without weight gain.


Overweight Youths Should be Treated for Obesity Much Earlier to Prevent Diabetes
Posted: Wednesday, September 13, 2006
Watchful waiting when faced with overweight preschoolers and elementary school children is poor pediatric practice.


Weight Loss Should be the Primary Intervention for Risk of Diabetes
Posted: Thursday, August 31, 2006
In a randomized trial with 1079 participants, for over 3 years it was found that for every 2 pounds of weight loss there was a 16% reduction in risk.


Physical Activity Shrinks Abdominal Fat Cells
Posted: Wednesday, August 23, 2006
Physical activity may be especially helpful in reducing the size of fat cells around the waistline -- more so than diet alone. That's important, because fat specifically in the abdomen has been linked to the risk of heart disease and diabetes.



`Mr. Diabetes®' Talks the Talk and Walks the Walk
Posted: Wednesday, August 09, 2006
Walking down Commonwealth Avenue, on approximately the 7,500th mile of his perimeter walk around the United States, Andy ``Mr. Diabetes®" Mandell spotted his latest target.

``Hi, may I talk to you for a minute?" Mandell asked the young man walking toward him. ``Do you know anyone with diabetes?"


Diabetes Prevalence Outstrips National Growth Rate and More
Posted: Wednesday, August 09, 2006
The US Centers for Disease Control and Prevention (CDC) reported a 50% increase in the prevalence of diabetes from 1997 to 2004.


Costa Rica Travel Corp. will donate a portion of the proceeds to and is a sponsor of Defeat Diabetes Foundation.
Send your unopened, unexpired test strips to

:


Defeat Diabetes Foundation
150 153rd Ave, Suite 300
Madeira Beach, FL 33708
DDF advertisement
Analyze nutrition content by portion
DDF advertisement