This site complies with the HONcode standard for trustworthy health information:
verify here.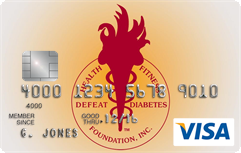 Rewarding for
you and us
Defeat Diabetes Foundation
Defeat Diabetes
Foundation
150 153rd Ave,
Suite 300
Madeira Beach, FL 33708
Obesity
Search our News Articles Archives for diabetes and health news. Search by word or phrase. The latest article will appear first.
Researchers Uncover Potential Role of Leptin in Diabetes
Posted: Thursday, October 11, 2007
A new Joslin-led study has shown that leptin, a hormone known mainly for regulating appetite control and energy metabolism, plays a major role in islet cell growth and insulin secretion. This finding opens up new avenues for studying leptin and its role in islet cell biology, which may lead to new treatments for diabetes


Raised Blood Pressure/BMI in Midlife Predicts Heart Failure in Later Life
Posted: Thursday, October 11, 2007
Raised blood pressure (BP) and excess body mass index (BMI) in middle age increases the risk of heart failure in later life, a new study suggests.


New Blood Test Predicts Future Chance of Diabetes
Posted: Thursday, October 11, 2007
Type 2 diabetes is caused by poor eating habits, hereditary, and lack of exercise. But now, researchers at UCLA say there is another risk factor that doesn't have to do with weight, diet and genes that can help predict who's likely to develop diabetes.


Patients Give Up 10 Quality of Life Years, Rather Then Intensely Manage Their Diabetes
Posted: Thursday, October 04, 2007
Many patients with diabetes say that the inconvenience and discomfort of constant therapeutic vigilance, particularly multiple daily insulin injections, has as much impact on their quality of life as the burden of intermediate complications.


Brisk Walking Restores Muscle Function in Diabetics
Posted: Friday, September 21, 2007
According to a new study in Type 2 diabetes, a moderate-intensity exercise program, such as brisk walking for 30 minutes three-to-five times a week, combined with moderate weight loss is enough to restore mitochondrial content and function to skeletal muscle.


Low-Carb/High-Fat or High-Carb/Low-Fat Diet Improves Weight Loss, Mood
Posted: Friday, September 21, 2007
Use of an LCHF or an HCLF calorie-restrictive diet is associated with significant weight loss during 8 weeks, with greater weight loss for the LCHF diet.


Brain Link Seen in Type 2 Diabetes
Posted: Friday, September 07, 2007
Glucose Problems in Certain Brain Cells May Be a Red Flag of Type 2 Diabetes Risk


Treating Gestational Diabetes Reduces Childhood Obesity
Posted: Friday, September 07, 2007
Treating gestational diabetes mellitus (GDM) during pregnancy may reduce the child's risk of becoming obese, according to the results of a new study.


AACE Publishes New Diabetes Clinical Practice Guidelines
Posted: Friday, August 31, 2007
The American Association of Clinical Endocrinologists (AACE) announced the release of its medical guidelines for the diagnosis and management of diabetes mellitus. The Guidelines consider the clinical management of blood glucose, blood pressure, and abnormalities of lipid metabolism, and also address the prevention of diabetes and the prevention and treatment of diabetic complications.


Bariatric Surgery Improves Survival in Obese Patients
Posted: Friday, August 31, 2007
Bariatric surgery in obese patients is linked to a reduction in overall mortality, according to the results of a prospective, controlled cohort study.


Costa Rica Travel Corp. will donate a portion of the proceeds to and is a sponsor of Defeat Diabetes Foundation.
Send your unopened, unexpired test strips to

:


Defeat Diabetes Foundation
150 153rd Ave, Suite 300
Madeira Beach, FL 33708
DDF advertisement
Analyze nutrition content by portion
DDF advertisement