This site complies with the HONcode standard for trustworthy health information:
verify here.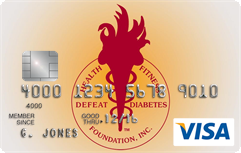 Rewarding for
you and us
Defeat Diabetes Foundation
Defeat Diabetes
Foundation
150 153rd Ave,
Suite 300
Madeira Beach, FL 33708
Complications
Search our News Articles Archives for diabetes and health news. Search by word or phrase. The latest article will appear first.
Fat Intake Speeds Age-Related Blindness
Posted: Saturday, December 27, 2003
AMD is a condition that is the leading cause of blindness from age 65, new research shows. Fat in nuts is the only type that appears to protect against disease progression. Consumption of fats, especially those in processed baked goods, may promote the progression of age-related macular degeneration. (AMD).


New Test Predicts Which Ulcers Will Heal With Standard Therapy
Posted: Saturday, December 27, 2003
Foot ulcers are a common problem for diabetics, and now researchers have come up with a simple scoring system that predicts which ulcers will heal with standard therapy.In general, ulcers that are larger, deeper and of longer duration are less likely to heal than others.


Beta-Blockers Improve Survival Outcomes In Diabetics With Heart Failure
Posted: Wednesday, December 10, 2003
Beta-blockers provide substantial benefits to heart failure patients when given with other drugs called ACE inhibitors, the authors explain. However, many doctors are reluctant to give beta-blockers to diabetics out of concern for possible side effects on blood sugar levels. Still, based on the present analysis, it is possible to conclude that heart failure patients, with or without diabetes, should probably receive a beta-blocker unless they have strict reason not to, the researchers state.


Renal Disease Progresses in Slowly Type 2 Diabetics
Posted: Wednesday, December 10, 2003
Type 2 diabetic patients without overt nephropathy have a significant, but slow, course ofrenal insufficiency. In patients with type 2 diabetes with overt nephropathy, the risk for progressive renal failure ishigh. The risk is less well established for those with type 2 diabetes and microalbuminuria or normalbuminuria.


Alcohol Consumption After Eating Reduces Insulin Levels
Posted: Wednesday, November 26, 2003
Moderate alcohol consumption after a meal produces a significant drop in plasma insulin levels, which could have an important effect on glucose metabolism


Susceptibility Genes Explain High Rate of Diabetic Kidney Failure in Blacks
Posted: Wednesday, November 26, 2003
New evidence found that genetic variations in regions of certain chromosomes are linked to severe kidney disease in younger African Americans with diabetes. The findings may ultimately lead to new drugs to prevent kidney failure in diabetics.


The Many Faces of Diabetic Eye Disease
Posted: Wednesday, November 26, 2003
"Glaucoma" is the term used to describe a group of eye diseases that share the following characteristics: progressive, structural damage to the optic nerve, often but not always associated with an increase of internal eye pressure, resulting in a progressive and characteristic pattern of visual field (peripheral and then central vision) loss.


Having 1 or More of 4 Risk Factors Increases Risk of Coronary Death 95%
Posted: Tuesday, November 18, 2003
Two analyses now show that 80%-90% of CHD patients—and 95% of those with fatal CHD events—have at least one of four major risk factors (smoking, hypertension, high cholesterol, or diabetes).


Weight Management a Therapeutic Priority for Individuals with Type 2 Diabetes
Posted: Tuesday, November 18, 2003
Weight management may be the most important therapy for obese individuals with type 2 diabetes, according to a recent American review. Obesity and weight gain are important risk factors for the development of diabetes and can significantly influence the outcome for those already diagnosed with the disease. Obesity is also a known risk factor for coronary heart disease (CHD), which is responsible for 70% to 80% of deaths in diabetics.


Lessons from a Diabetic Eye Doctor:How to Avoid Blindness and Get Great Eye Care
Posted: Friday, November 14, 2003
When thinking about the eye complications of diabetes, most people, including most health care professionals, think of diabetic retinopathy the process through which the eye's light sensitive retina is damaged by chronic hyperglycemia. There are seven different "diabetic eye diseases": diabetic cataract; glaucoma; diabetic keratopathy; diabetic optic neuropathy; diabetic cranial neuropathy; diabetic retinopathy; and retinal vascular occlusion.


Costa Rica Travel Corp. will donate a portion of the proceeds to and is a sponsor of Defeat Diabetes Foundation.
Send your unopened, unexpired test strips to

:


Defeat Diabetes Foundation
150 153rd Ave, Suite 300
Madeira Beach, FL 33708
DDF advertisement
Analyze nutrition content by portion
DDF advertisement