This site complies with the HONcode standard for trustworthy health information:
verify here.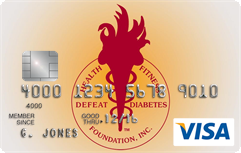 Rewarding for
you and us
Defeat Diabetes Foundation
Defeat Diabetes
Foundation
150 153rd Ave,
Suite 300
Madeira Beach, FL 33708
Complications
Search our News Articles Archives for diabetes and health news. Search by word or phrase. The latest article will appear first.
Statins Are Underused and Underdosed!
Posted: Thursday, March 18, 2004
The practice of under-dosing statins is just bad medicine and bad economics because low-dose statins do not offer the cardiovascular disease protection of higher-dose statins, so the patients have not reduced their risk of cardiovascular events.


New Optimism For Patients Suffering From Numbness
Posted: Wednesday, March 10, 2004
Everyday I see patients that complain of only one thing, pain in their hands and feet. Traditionally, these patients with neuropathy are told their numbness and pain will progress, leading to infection and ulceration in one of six people, and then to amputation in one of six of those people. Dr Dellon is the Director of the Dellon Institutes for Peripheral Nerve Surgery, with Institutes in Baltimore, Maryland, and Tucson, Arizona. Since the early 1980's, he has been perfecting a surgical approach that decompresses nerves in the leg, ankle, and foot, relieving pressure upon these nerves


New Research Suggests Lower Chromium Levels Linked to Increase Risk of Diabetes and CVD
Posted: Wednesday, March 10, 2004
New data was announced, suggesting that high levels of chromium in the body are associated with a lower prevalence of diabetes and cardiovascular disease (CVD) in men.


ECG Signs Identify Diabetics with High Death Risk
Posted: Thursday, March 04, 2004
Diabetes increases the odds of developing heart disease, and more and more people are becoming diabetic. In light of this, researchers looked at signs on the ECG that are associated with mortality risk in the general population to see if they would be of use in diabetics.


Fruit, Cereal Fiber May Reduce Cardiovascular Risk
Posted: Thursday, March 04, 2004
Fiber from fruits and cereal, but not from vegetables, may reduce the risk of coronary heart disease (CHD. "Dietary fiber may reduce the risk of CHD through a variety of mechanisms, such as improving blood lipid profiles, lowering blood pressure and improving insulin sensitivity and fibrinolytic activity," write Mark A. Pereira, PhD.


Mortality in Critically Ill Patients Reduced 29% With Target Glucose of <140 mg/dL
Posted: Thursday, March 04, 2004
Controlling glucose to a goal of 110 mg/dL or less reduced in-hospital mortality by 34%, reduced blood stream infections by 46%, cut dialysis days by 41%, cut the red-cell transfusion rate in half, and reduced the time on mechanical ventilation


Diabetes Leads to Early Aging of the Auditory System
Posted: Friday, February 27, 2004
Preliminary findings of a new study have determined that diabetes, approaching epidemic proportions, may lead to premature aging of the body's auditory or hearing system. Significant findings to date include: increased hearing loss in diabetic veterans aged 60 and younger compared to those of the same age without diabetes, a lack of effect on the cochlear amplifier system as shown by otoacoustic emissions testing, and delays in central auditory processing revealed in the auditory brainstem response (ABR) tests.


Diabetes Patients Not Reducing Risk Factors for Vascular Disease
Posted: Friday, February 27, 2004
Only 7.3% of those at risk for vascular disease are reducing their risk by controlling blood sugar, blood pressure and cholesterol. The American Association of Clinical Endocrinologists (AACE) calls for greater awareness of healthy target standards


Kidney Transplant Patients Who Develop Diabetes Show Poor Short-Term Outcomes
Posted: Friday, February 27, 2004
"Because patients with diabetes often pose many medical challenges due to the complications of the disease, it was surprising to see that these patients who'd been dealing with diabetes for years, ended up better off than the patients who only developed diabetes after their transplants," said Robert Gabbay, M.D., Ph.D."Overall, patients who developed post-transplant diabetes were most vulnerable to kidney rejection, infection and additional hospitalization."


Possible Mechanism For Link Between Diabetes and Alzheimer's Disease Discovered
Posted: Friday, February 27, 2004
For some time, researchers have known that people with diabetes have a greater risk of developing Alzheimer's disease and other forms of dementia than those without diabetes, but the exact cause of this link has not been known. A new study suggests that insulin resistance in brain cells can affect how they function, causing some of the biochemical changes typically seen in Alzheimer's disease.


Costa Rica Travel Corp. will donate a portion of the proceeds to and is a sponsor of Defeat Diabetes Foundation.
Send your unopened, unexpired test strips to

:


Defeat Diabetes Foundation
150 153rd Ave, Suite 300
Madeira Beach, FL 33708
DDF advertisement
Analyze nutrition content by portion
DDF advertisement