This site complies with the HONcode standard for trustworthy health information:
verify here.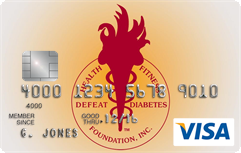 Rewarding for
you and us
Defeat Diabetes Foundation
Defeat Diabetes
Foundation
150 153rd Ave,
Suite 300
Madeira Beach, FL 33708
Nutrition » Alternative Medicine
Search our News Articles Archives for diabetes and health news. Search by word or phrase. The latest article will appear first.
Low Fat Intake Sweetens Dieters' Mood
Posted: Monday, November 23, 2009
Restricting fat rather than carbohydrate intake may make dieting easier on the mood, researchers found.


Growth Hormone in Elderly: Bad Insulin Effects, Good Lipid Effects
Posted: Monday, November 16, 2009
Growth hormone increases insulin resistance and modestly improves lipid profiles in healthy older men and women, according to a new report.


Intensive Lifestyle Intervention Reduces RISKS!
Posted: Monday, November 09, 2009
Four-year results from the Action for Health Diabetes (Look AHEAD) study has shown that an intensive lifestyle intervention designed to achieve and maintain weight loss over the long term produces sustained weight loss and improvements in fitness, as well as improvements in glycemic control, systolic blood pressure, and HDL-cholesterol levels.


Increasing Fiber Decreases Belly Fat
Posted: Monday, November 09, 2009
Eating just a little bit more fiber could have a big impact in trimming the waistlines of America's young people, new research shows.


Exercise Keeps Visceral Fat Away a Year after Weight Loss
Posted: Monday, November 09, 2009
Eighty minutes a week of aerobic or resistance training helps not only to prevent weight gain, but also to inhibit a regain of harmful visceral fat one year after weight loss.


Diabetes on the Rise in the U.S.
Posted: Monday, November 09, 2009
Diabetes cases are rising rapidly in the U.S., with the disease afflicting 11.3% of American adults as of the third quarter of 2009, according to a new Gallup survey. That's an increase from 10.4% measured in the first quarter of last year.


Vegetables Protect Unborn Child Against Diabetes
Posted: Monday, November 09, 2009
New evidence is emerging for how important it is for pregnant women to eat good, nutritious food. Expecting mothers who eat vegetables every day seem to have children who are less likely to develop Type 1 diabetes, according to a new study from the Sahlgrenska Academy at the University of Gothenburg, Sweden.


Healthy Lifestyle Works for Those with Diabetes
Posted: Monday, November 02, 2009
Research presented at the 20th World Diabetes Congress in Montreal provides further evidence that healthy behaviors reduce mortality in people with and without diabetes.


Study Finds How Substance in Grapes Can Improve Glucose Control
Posted: Wednesday, October 28, 2009
A naturally produced molecule called resveratrol, found in the skin of red grapes, has been shown to lower insulin levels in mice when injected directly into the brain, even when the animals ate a high-fat diet.


Chinese Herbs Have Promise for Diabetes Prevention
Posted: Wednesday, October 28, 2009
A number of traditional Chinese herbs may help control blood sugar levels in people at high risk of diabetes, a new research review suggests.


Costa Rica Travel Corp. will donate a portion of the proceeds to and is a sponsor of Defeat Diabetes Foundation.
Send your unopened, unexpired test strips to

:


Defeat Diabetes Foundation
150 153rd Ave, Suite 300
Madeira Beach, FL 33708
DDF advertisement
Analyze nutrition content by portion
DDF advertisement