This site complies with the HONcode standard for trustworthy health information:
verify here.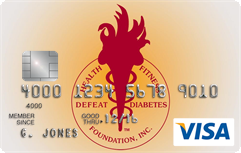 Rewarding for
you and us
Defeat Diabetes Foundation
Defeat Diabetes
Foundation
150 153rd Ave,
Suite 300
Madeira Beach, FL 33708
Nutrition » Food
Search our News Articles Archives for diabetes and health news. Search by word or phrase. The latest article will appear first.
Chocolate Helps Aging Blood Vessels
Posted: Thursday, August 17, 2006
Flavonol-Rich cocoa improves blood vessel function.


`Mr. Diabetes®' Talks the Talk and Walks the Walk
Posted: Wednesday, August 09, 2006
Walking down Commonwealth Avenue, on approximately the 7,500th mile of his perimeter walk around the United States, Andy ``Mr. Diabetes®" Mandell spotted his latest target.

``Hi, may I talk to you for a minute?" Mandell asked the young man walking toward him. ``Do you know anyone with diabetes?"


Compound in Dairy Products Targets Diabetes
Posted: Wednesday, August 09, 2006
A possible new way to treat diabetes without synthetic drugs.


Diabetes Prevalence Outstrips National Growth Rate and More
Posted: Wednesday, August 09, 2006
The US Centers for Disease Control and Prevention (CDC) reported a 50% increase in the prevalence of diabetes from 1997 to 2004.


Vegan Diet Reverses Diabetes Symptoms
Posted: Thursday, August 03, 2006
People who ate a low-fat vegan diet, cutting out all meat and dairy, lowered their blood sugar more and lost more weight than people on a standard American Diabetes Association diet.


Diabetes Rates Increasing Again in US
Posted: Thursday, August 03, 2006
Adults in the United States have increasingly become overweight or obese in recent years, according to a national survey conducted for Indiana University dispelling the notion of a plateau and injecting a note of urgency into efforts to help Americans achieve a healthier weight. The study, found increasing rates of diabetes among U.S. adults and more direct links between excess weight and serious health conditions.


Chili Attenuates Postprandial Insulin Response
Posted: Thursday, August 03, 2006
Animal and some human studies have indicated that the consumption of chili-containing meals increases energy expenditure and fat oxidation, which may help to reduce obesity and related disorders.


People With a Sweet Tooth Eat More Fruit, Study Finds
Posted: Friday, July 28, 2006
People who like sweets eat more fruit than salty-snack lovers, and people who love fruit eat more sweets than vegetable lovers do, according to two Cornell University analyses.


AHA Dietary and Lifestyle Recommendations Revised June, 2006
Posted: Friday, June 30, 2006
The 2006 AHA diet and lifestyle recommendations include guidelines for a healthy diet; healthy weight; cholesterol, BP, and fasting blood sugar control; use of supplements; physical activity; and avoidance of tobacco.


Few Willing to Pay to Reduce Diabetes Risk
Posted: Friday, June 30, 2006
Most people at high risk of developing type 2 diabetes are willing to participate in a risk-reduction program, but few are willing to pay full price to do so.


Costa Rica Travel Corp. will donate a portion of the proceeds to and is a sponsor of Defeat Diabetes Foundation.
Send your unopened, unexpired test strips to

:


Defeat Diabetes Foundation
150 153rd Ave, Suite 300
Madeira Beach, FL 33708
DDF advertisement
Analyze nutrition content by portion
DDF advertisement