This site complies with the HONcode standard for trustworthy health information:
verify here.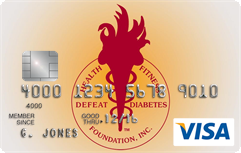 Rewarding for
you and us
Defeat Diabetes Foundation
Defeat Diabetes
Foundation
150 153rd Ave,
Suite 300
Madeira Beach, FL 33708
Nutrition » Self-Management
Search our News Articles Archives for diabetes and health news. Search by word or phrase. The latest article will appear first.
How To Impact Your Patients Lifestyles in 20 Minutes!
Posted: Friday, May 14, 2004
During the 20 minutes we were able to talk briefly about food labels and counting carbohydrates.

Next we ask, from what you learned, what is the most important item on the food label? They replied, of course, carbohydrates! I then explain the most important part of the food label is PORTION SIZE. I then go on to explain that there are other things that should also be aware of on the label Calories, Fats, and Salt


Whole Grains Good for the Diabetic Heart
Posted: Saturday, March 06, 2004
Women with type 2 diabetes who incorporate more whole grains, bran, and cereal fiber into their diets may reduce their risk of heart disease, according to a new study.

What's more, low-glycemic index foods, that is, readily digested carbohydrates that cause a rapid rise in blood sugar levels, may also help to curb early signs of heart trouble



New Lower Guidelines for Salt Consumption
Posted: Thursday, February 19, 2004
New recommendations lowered from 2400mg to 1500mg/day, and less as we get older. Americans eat more than twice the salt they should but don't get enough potassium, an imbalance that fuels high blood pressure.


DASH Diet Improves Insulin Sensitivity as Well as Hypertension
Posted: Friday, February 13, 2004
Including the DASH (Dietary Approaches to Stop Hypertension) dietary pattern as a basic part of a hypocaloric dietary plan can lead to significant improvements of up to 50% in insulin sensitivity.




A View of the Glycemic Index from the Trenches
Posted: Monday, February 09, 2004
The Glycemic Index: Does it really work?As an "in the trenches" dietitian, I have consistently seen for more than a decade how easily my patients learn to incorporate low GI foods into their meal plans and how consistently happy (and relieved) they are with their results


Team Approach Delivers Motivational Diabetes Management
Posted: Monday, February 09, 2004
The new diabetes management program, is designed to place patients at the center of their own care through a group-support concept and the hospital's healthcare team.


Eight Tips for Exercising Off the Holiday Season Weight
Posted: Monday, January 12, 2004
Should we just concede that gaining weight during the holiday season is inevitable? Well, believe it or not, you can keep the extra weight off and keep your blood glucose under control.


Right Cooking Oil Key to Avoiding Trans Fats
Posted: Saturday, December 27, 2003
Many consumers were unaware that food processing can turn many of the most popular cooking oils into ticking time bombs for arteries.Those little bombs are "trans fats," which the government has deemed dangerous enough to require labeling in U.S. food products beginning in 2006.


Buckwheat Helps To Control Diabetes
Posted: Wednesday, November 26, 2003
Research on buckwheat, a grain used in making pancakes and noodles, has proved it may be beneficial for diabetics. In a controlled study, Canadian researchers have shown that extracts of the seed lowered blood glucose levels by 12 to 19 percent when fed to diabetic rats.


How to Eat More and Still Lose Weight
Posted: Thursday, October 30, 2003
It's the energy density of foods -- not the amount we eat or even the overall fat content -- that most contributes to weight gain. When it comes to dieting, bigger food is better. That may be surprising to dieters who've struggled to cut calories by eating less food.


Costa Rica Travel Corp. will donate a portion of the proceeds to and is a sponsor of Defeat Diabetes Foundation.
Send your unopened, unexpired test strips to

:


Defeat Diabetes Foundation
150 153rd Ave, Suite 300
Madeira Beach, FL 33708
DDF advertisement
Analyze nutrition content by portion
DDF advertisement