This site complies with the HONcode standard for trustworthy health information:
verify here.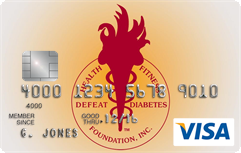 Rewarding for
you and us
Defeat Diabetes Foundation
Defeat Diabetes
Foundation
150 153rd Ave,
Suite 300
Madeira Beach, FL 33708
Nutrition » Self-Management
Search our News Articles Archives for diabetes and health news. Search by word or phrase. The latest article will appear first.
Mr. Diabetes® Completes 10,000+ Mile Walk of U.S. Perimeter
Posted: Thursday, December 18, 2008
Still Plenty of Work to Do: For the past eight years Andy Mandell - Mr. Diabetes®, Executive Director of Defeat Diabetes Foundation, has been a man with one mission: to walk the 10,000 mile perimeter of the United States raising awareness about the dangers of diabetes, a disease that nearly took his life. On December 21, 2008, at approximately 2:00 pm EST, he will walk the final steps in Madeira Beach, FL where it began December 1, 2000.


Worms Might Hold Secret to Weight Loss
Posted: Sunday, December 14, 2008
Obesity is an incredibly serious global problem, being linked to numerous deadly diseases, including diabetes. Awareness campaigns, novel treatments, fad and medically accepted diets, and more, have all tried to curtail the obesity epidemic. According to McGill researchers, however, the key to fighting obesity might be inside of some special worms.


Brain Enzyme Helps Control Food Regulation
Posted: Sunday, December 14, 2008
A hypothalamus based enzyme has recently been shown to be "nutrient sensitive." Researchers found that the enzyme SK6, when highly active, helps control appetite and weight gain.


Lower Carbs Leads to Diminished Brain Function
Posted: Friday, December 12, 2008
A new study out of Tufts University has uncovered a major drawback to "low-carb diets," which have garnered a large contingency over the past decade. The study revealed that low-carb diets induce decreased cognitive ability, especially memory.


Fatty Liver More Risky than Apple Shape
Posted: Friday, December 05, 2008
It's long been accepted that overweight individuals with higher proportions of fat in the gut, as apposed to the lower body, are more at risk for conditions such as heart disease and diabetes. A new study has found, however, that excess liver fat is the most indicative of future health risks, with outer fat proportions taking a back-seat in riskiness.


Vitamin K Combats Insulin Resistance in Elderly Men
Posted: Friday, November 28, 2008
A recent study has demonstrated that vitamin K slows the progression of insulin resistance in elderly men, but has little effect on elderly women.


The Banning of Fast Food Ads: Reducing Child Obesity, Stifling Capitalism?
Posted: Sunday, November 23, 2008
Obesity is an epidemic, and its rapid rise has closely coincided with the growth of the so-called "fast-food culture." It's been hotly debated for many years whether fast food advertisements, which are primarily aimed at children in the United States, are in large part responsible for rising obesity levels. A new study, the most comprehensive of its kind, has concluded that indeed this form of advertising plays an enormous role in obesity numbers, especially in children.


Garlic Compound Effective in Treating Diabetes?
Posted: Thursday, November 20, 2008
A new non-invasive diabetes drug treatment based on a chemical compound found in garlic has proven effective in treating diabetic mice. The same drug had been previously effective through injection, but this new approach might make it much more attractive as an alternative diabetic treatment.


Wasabi Provides Link Between Ammonia and Pain
Posted: Saturday, November 15, 2008
Wasabi, the spicy Japanese horseradish often accompanying sushi, might also provide a link to a poorly understood pain mechanism. In fact, eating too much wasabi can result in legitimate receptor-induced pain, according to a recent finding.


Low Potassium Levels Linked to High Blood Pressure
Posted: Sunday, November 09, 2008
Low potassium levels often translate to high blood pressure, according to recent research. This correlation was found to be most pronounced in African-Americans.


Costa Rica Travel Corp. will donate a portion of the proceeds to and is a sponsor of Defeat Diabetes Foundation.
Send your unopened, unexpired test strips to

:


Defeat Diabetes Foundation
150 153rd Ave, Suite 300
Madeira Beach, FL 33708
DDF advertisement
Analyze nutrition content by portion
DDF advertisement