This site complies with the HONcode standard for trustworthy health information:
verify here.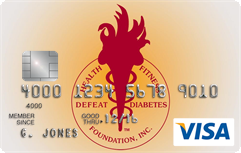 Rewarding for
you and us
Defeat Diabetes Foundation
Defeat Diabetes
Foundation
150 153rd Ave,
Suite 300
Madeira Beach, FL 33708
Nutrition » Diet
Search our News Articles Archives for diabetes and health news. Search by word or phrase. The latest article will appear first.
Dairy Can Help Burn Fat
Posted: Thursday, April 29, 2004
Adults on a reduced-calorie diet who ate 3-4 servings of dairy foods each day lost an average of 24 pounds.

The study indicates that 3-4 daily servings of milk, cheese or yogurt help people lose more weight by helping them burn more fat in the abdominal region, when compared to those who just cut calories or took calcium supplements.


Low-Calorie Diet May Lengthen Life And Prevent Diabetes
Posted: Thursday, April 29, 2004
A small group of people who are drastically restricting how much they eat in the hope of slowing the aging process have produced the strongest support yet for the tantalizing theory that very low-calorie diets can extend the human lifespan.In addition, their blood sugar levels were very low and their body's response to insulin was extremely high, indicating they were at very low risk for diabetes.


Diet Prevents Type 2 Diabetes
Posted: Friday, April 16, 2004
Finland looked at the health records and diets of more than 4,000 men and women aged 40 to 69 showed that eating foods rich in vitamin E, such as nuts and wheat germ, could help reduce the risk of developing Type 2 diabetes.


Walnuts Improve Endothelial Function
Posted: Saturday, April 10, 2004
"This is the first time a whole food, not its isolated components, has shown this beneficial effect on vascular health," lead author Emilio Ros, MD, from the Hospital Clinic of Barcelona, Spain, says in a news release. "Walnuts differ from all other nuts because of their high content of alpha-linolenic acid (ALA), a plant-based omega-3 fatty acid, which may provide additional anti-atherogenic properties."


One More Reason to Consider High-Protein Diet
Posted: Monday, April 05, 2004
Researchers at the University of Minnesota say a high-protein diet lowers after-meal blood glucose 40 percent in type 2s and improves overall glucose control.

However, they say longer-term studies are necessary "to determine the total magnitude of response, possible adverse effects and the long-term acceptability of the diet."


Healthy" Diet May Increase Risk for CVD
Posted: Wednesday, March 31, 2004
A diet low in total and saturated fat and high in fruits and vegetables caused an increase in LDL and Lp(a). This finding was unexpected.


Low-Carb Diets Likely to Lead to High Calories
Posted: Wednesday, March 10, 2004
Looking at published studies, she said it is clear that "calories do count, but in the short-term, studies indicate that low-carb dieters lose more weight than low-fat dieters when eating the same calories. Moreover,claims by Atkins and South Beach proponents that the diets eliminate hunger may have some validity. But the long-term attrition rate among low-carb dieters is probably the same as among low-fat dieters. We eat too much because there are too many calories available.


Fruit, Cereal Fiber May Reduce Cardiovascular Risk
Posted: Thursday, March 04, 2004
Fiber from fruits and cereal, but not from vegetables, may reduce the risk of coronary heart disease (CHD. "Dietary fiber may reduce the risk of CHD through a variety of mechanisms, such as improving blood lipid profiles, lowering blood pressure and improving insulin sensitivity and fibrinolytic activity," write Mark A. Pereira, PhD.


A View of the Glycemic Index from the Trenches
Posted: Monday, February 09, 2004
The Glycemic Index: Does it really work?As an "in the trenches" dietitian, I have consistently seen for more than a decade how easily my patients learn to incorporate low GI foods into their meal plans and how consistently happy (and relieved) they are with their results


Eight Tips for Exercising Off the Holiday Season Weight
Posted: Monday, January 12, 2004
Should we just concede that gaining weight during the holiday season is inevitable? Well, believe it or not, you can keep the extra weight off and keep your blood glucose under control.


Costa Rica Travel Corp. will donate a portion of the proceeds to and is a sponsor of Defeat Diabetes Foundation.
Send your unopened, unexpired test strips to

:


Defeat Diabetes Foundation
150 153rd Ave, Suite 300
Madeira Beach, FL 33708
DDF advertisement
Analyze nutrition content by portion
DDF advertisement