This site complies with the HONcode standard for trustworthy health information:
verify here.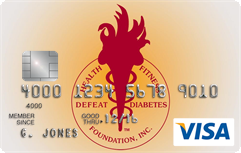 Rewarding for
you and us
Defeat Diabetes Foundation
Defeat Diabetes
Foundation
150 153rd Ave,
Suite 300
Madeira Beach, FL 33708
Nutrition » Diet
Search our News Articles Archives for diabetes and health news. Search by word or phrase. The latest article will appear first.
Once Weekly Fish Consumption Linked to Reduced Cognitive Decline
Posted: Thursday, December 07, 2006
Fish consumption, about one serving per week or more, is associated with reduced cognitive decline, according to the results of a prospective cohort study.


High Sugar Intake Increases Risk for Pancreatic Cancer
Posted: Thursday, November 30, 2006
Consumption of foods and drinks with high sugar content were associated with increased risk for pancreatic cancer, according to the results of a prospective, population-based cohort study of Swedish men and women.


One in Six Americans Have Pre-Diabetes and Most Don't Know It
Posted: Wednesday, November 22, 2006
Fifty-four million Americans, that's one in six of us, have pre-diabetes and most don't even realize it. Mark Schutta, MD, medical director of the Penn Rodebaugh Diabetes Center, is urging at-risk patients to be proactive and ask your doctor to give you a simple blood test for pre-diabetes, to arm yourself with information before the damage is done. It means you have blood glucose levels that are higher than normal and you could one day reach a high enough level that you would be diagnosed with having diabetes.



Enriched Bread Reduces Energy Intake and Increase Feeling of Fullness
Posted: Wednesday, November 22, 2006
New study shows that you can eat bread and lose weight?? Bread enriched with lupin kernel flour at the expense of wheat flour reduced energy intake and increased the feeling of fullness, which may have important implications for weight management.


New Study Weighs Benefits of Exercise, Diets
Posted: Wednesday, November 22, 2006
While exercise and weight loss are equally effective ways to lose weight, exercising helps to maintain muscles, research finds.


Fruit Yogurt Could Play an Important Role in Diabetes Management
Posted: Thursday, November 16, 2006
Scientists screened dairy and soy yogurts for properties that could help keep diabetes and hypertension in check, such as the activity level of enzymes that help moderate blood sugar.


Mars Chocolate Lowers Cholesterol, Study
Posted: Thursday, November 16, 2006
Mars' CocoaVia nutritional chocolate bar range has had its healthy image boosted by a new study indicating that the product actively reduces cholesterol levels.


Lifestyle Change Cuts Weight, CVD Risk in Diabetes
Posted: Thursday, November 16, 2006
Control group had lost a mean of 8.3% of their body weight. One-year data obtained from a large, federally funded trial have shown that intensive lifestyle intervention can produce significant weight loss and reduce cardiovascular risk factors in patients with type 2 diabetes.


Children's Belly Fat Increases More Than 65 Percent Since 1990's
Posted: Thursday, November 16, 2006
Abdominal obesity increased more than 65 percent among boys and almost 70 percent among girls between 1988 and 2004. The finding of growing girth is significant because abdominal obesity has emerged as a better predictor of cardiovascular disease and type 2 diabetes risk than the more commonly used Body Mass Index, a weight to height ratio that can sometimes be misleading.




Three Years Later, Participants in the Diabetes Prevention Study Still Benefiting
Posted: Thursday, November 16, 2006
The effects of lifestyle intervention on diabetes risk do not disappear after active counseling has stopped, a new follow-up of the Finnish Diabetes Prevention Study shows.


Costa Rica Travel Corp. will donate a portion of the proceeds to and is a sponsor of Defeat Diabetes Foundation.
Send your unopened, unexpired test strips to

:


Defeat Diabetes Foundation
150 153rd Ave, Suite 300
Madeira Beach, FL 33708
DDF advertisement
Analyze nutrition content by portion
DDF advertisement