This site complies with the HONcode standard for trustworthy health information:
verify here.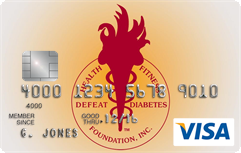 Rewarding for
you and us
Defeat Diabetes Foundation
Defeat Diabetes
Foundation
150 153rd Ave,
Suite 300
Madeira Beach, FL 33708
Nutrition
Search our News Articles Archives for diabetes and health news. Search by word or phrase. The latest article will appear first.
Vitamin E Can Cut Heart Disease Risk in Diabetics
Posted: Friday, October 26, 2007
Supplements of vitamin E may counteract complications in type-2 diabetics linked to an increased risk of heart disease.


Antioxidants Don't Prevent Macular Degeneration
Posted: Thursday, October 18, 2007
A diet rich in antioxidant vitamins and minerals (vitamins A, C, and E, various carotenoids, and zinc) did nothing to prevent age-related macular degeneration, according to a large review and meta-analysis.


Low Doses of Red Wine Improves Diabetes Control
Posted: Thursday, October 11, 2007
Resveratrol in red wine has already been shown to offer heart benefits. Chinese researchers have outlined the molecular chain of activity that makes resveratrol, a chemical found in the skin of red grapes and in red wine, a promising candidate for treatment of diabetes and other conditions.


Researchers Uncover Potential Role of Leptin in Diabetes
Posted: Thursday, October 11, 2007
A new Joslin-led study has shown that leptin, a hormone known mainly for regulating appetite control and energy metabolism, plays a major role in islet cell growth and insulin secretion. This finding opens up new avenues for studying leptin and its role in islet cell biology, which may lead to new treatments for diabetes


Omega-3 Cuts Risk for Type 1 Diabetes In Half
Posted: Thursday, October 11, 2007
A diet rich in the fatty acids protects against later onset of the disease.


Bitter Melon Can Improve Insulin Production.
Posted: Thursday, October 11, 2007
Momordica Charantia is a vegetable which grows in tropical areas like East Africa, Asia, South Africa, and the Caribbean. This vegetable is rich in iron, beta carotene, calcium, potassium, phosphorus and other dietary fibers.


New Blood Test Predicts Future Chance of Diabetes
Posted: Thursday, October 11, 2007
Type 2 diabetes is caused by poor eating habits, hereditary, and lack of exercise. But now, researchers at UCLA say there is another risk factor that doesn't have to do with weight, diet and genes that can help predict who's likely to develop diabetes.


Glycemic Index Too Variable to Be Useful for People With Diabetes
Posted: Thursday, October 04, 2007
In blood glucose responses to a white bread challenge, individual patients have significant variations from test to test and is too variable to be a useful measurement.


Patients Give Up 10 Quality of Life Years, Rather Then Intensely Manage Their Diabetes
Posted: Thursday, October 04, 2007
Many patients with diabetes say that the inconvenience and discomfort of constant therapeutic vigilance, particularly multiple daily insulin injections, has as much impact on their quality of life as the burden of intermediate complications.


EASD: IDF Recommends Tighter Control of Post-Meal Blood Glucose Levels
Posted: Thursday, October 04, 2007
IDF issued the new global guideline for diabetes care which includes the management of postmeal glucose. The guideline emphasizes that people with diabetes should have their blood glucose levels closely monitored after meals in order to optimize diabetes control and reduce the risk of complications, particularly cardiovascular disease.


Costa Rica Travel Corp. will donate a portion of the proceeds to and is a sponsor of Defeat Diabetes Foundation.
Send your unopened, unexpired test strips to

:


Defeat Diabetes Foundation
150 153rd Ave, Suite 300
Madeira Beach, FL 33708
DDF advertisement
Analyze nutrition content by portion
DDF advertisement