This site complies with the HONcode standard for trustworthy health information:
verify here.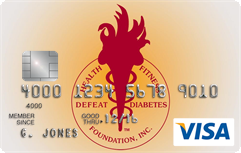 Rewarding for
you and us
Defeat Diabetes Foundation
Defeat Diabetes
Foundation
150 153rd Ave,
Suite 300
Madeira Beach, FL 33708
Nutrition
Search our News Articles Archives for diabetes and health news. Search by word or phrase. The latest article will appear first.
Benefit of Antioxidants Questioned
Posted: Saturday, April 19, 2008
Past research done on animal test subjects has suggested that taking antioxidant supplements may prolong life. According to a recent review, in which 67 human antioxidant studies were accounted for, the numbers in human beings do not appear to support this conclusion.


Vitamin D Levels Again Linked to Breast Cancer
Posted: Saturday, April 19, 2008
The most comprehensive vitamin D - breast cancer correlation study to date has confirmed the suspected result that women with low blood levels of vitamin D are at a much higher risk for developing breast cancer.


Tart Cherries May Reduce Heart/Diabetes Risk Factors
Posted: Friday, April 18, 2008
Less weight gain, reduction of inflammation, lower cholesterol and triglycerides and lower blood sugars, all from tart cherries.


An Apple A Day Lowers Risk for Metabolic Syndrome 21%
Posted: Friday, April 18, 2008
Apple product consumers likely to have lower blood pressure, trimmer waistlines, and more nutrient dense diets according to the results of a new study.


Heavy Drinking and Smoking Leads to Earlier Alzheimer's Development
Posted: Wednesday, April 16, 2008
Drinking and smoking in high doses leads to an earlier onset of Alzheimer's disease, new research has shown. Compared to people who did not smoke or drink in excess, heavy drinkers and smokers developed Alzheimer's nearly five years faster, and had a much higher occurrence of the disease as well.


Child Screen Time Associated With Obesity
Posted: Wednesday, April 16, 2008
Obesity is a growing problem in America, especially among its youth. Lack of exercise in children, often supplanted by time in front of television and computer screens, greatly increases the chance of a child being obese, a new study shows. The American Academy of Pediatrics (AAP) had previously made a list of suggestions to pediatricians, parents, and children alike, in order to best manage their physical activity and "screen time." The study aimed to test these suggestions.


Omega-3 Intake During Pregnancy Closely Related To Infant Development
Posted: Friday, April 11, 2008
Omega-3 fatty acid consumption during the last trimester of pregnancy appears to help with the motor and cognitive development of the infant. Higher omega-3 concentrations in the blood of the infants (which was also representative of a higher content in the mothers blood) was revealed to be strongly correlated to advanced development, according to a recent study.


Injuries and Masculinity Often Lead to Binge Drinking
Posted: Friday, April 11, 2008
Men who hold to "traditional" ideas about masculinity and male independence often turn to alcohol when suffering a serious injury, such as mental trauma, spinal chord injuries, or the loss of limbs. By dealing with their injuries in this manner, men that fit this mold have a much harder time living with, and rehabbing, these injuries, a University of Missouri study reports.



Wine May Protect Against Dementia In Women
Posted: Thursday, April 10, 2008
A study out of Sweden reports that women considered to be "consumers" of wine appear to be significantly less likely to suffer from dementia later in life than those that consume other forms of alcohol, or no alcohol at all.


Red Wine, Tea, Helps Regulate Blood Sugar in Type 2's
Posted: Wednesday, April 09, 2008
Food scientists have found that certain antioxidants found in red wine and tea may help regulate the blood sugar of people with type 2 diabetes by inhibiting the action of alpha-glucosidase that controls the absorption of glucose from the small intestine, and protect the body from complications such as high blood pressure and heart disease.


Costa Rica Travel Corp. will donate a portion of the proceeds to and is a sponsor of Defeat Diabetes Foundation.
Send your unopened, unexpired test strips to

:


Defeat Diabetes Foundation
150 153rd Ave, Suite 300
Madeira Beach, FL 33708
DDF advertisement
Analyze nutrition content by portion
DDF advertisement