This site complies with the HONcode standard for trustworthy health information:
verify here.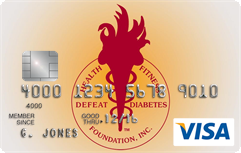 Rewarding for
you and us
Defeat Diabetes Foundation
Defeat Diabetes
Foundation
150 153rd Ave,
Suite 300
Madeira Beach, FL 33708
Nutrition
Search our News Articles Archives for diabetes and health news. Search by word or phrase. The latest article will appear first.
Highest Rates of Obesity, Diabetes in the South, Appalachia, and some Tribal Lands
Posted: Monday, November 30, 2009
Wide sections of the Southeast, Appalachia, and some tribal lands in the West and Northern Plains have the nationŒs highest rates of obesity and diabetes, according to estimates released last week by the Centers for Disease Control and Prevention. What are the percentages in your neighborhood?


Diabetes Cases To Double and Costs To Triple By 2034
Posted: Friday, November 27, 2009
In the next 25 years, the number of Americans living with diabetes will nearly double, increasing from 23.7 million in 2009 to 44.1 million in 2034. Over the same period, spending on diabetes will almost triple, rising from $113 billion to $336 billion, even with no increase in the prevalence of obesity, researchers based at the University of Chicago report in the December issue of Diabetes Care.


Food Insulin Index Predicts Insulin Demand of Mixed Meals
Posted: Monday, November 23, 2009
A food insulin index (FII) calculated by Australian researchers can predict the insulin demand evoked by mixed meals, according to a new report.


Fat around Organs Linked to Decreased Heart Function
Posted: Monday, November 23, 2009
Researchers from Boston University School of Medicine have shown that fat collection in different body locations, such as around the heart and the aorta, and within the liver, are associated with certain decreased heart functions.


Low Fat Intake Sweetens Dieters' Mood
Posted: Monday, November 23, 2009
Restricting fat rather than carbohydrate intake may make dieting easier on the mood, researchers found.


New IDF Guidelines on Diabetes Management
Posted: Monday, November 16, 2009
The International Diabetes Federation (IDF) announced the release of several new guidelines related to diabetes management at the IDF 20th World Diabetes Congress. These include the first-ever international guidelines on the management of diabetes in pregnancy and guidelines on the use of self-monitoring of blood glucose (SMBG) among Type 2 diabetic patients not being treated with insulin.


Growth Hormone in Elderly: Bad Insulin Effects, Good Lipid Effects
Posted: Monday, November 16, 2009
Growth hormone increases insulin resistance and modestly improves lipid profiles in healthy older men and women, according to a new report.


U.S. Is Failing in Diabetes Control -- Myths Outweigh Facts
Posted: Monday, November 16, 2009
It's a disease so common it strikes every 20 seconds, yet Americans earn a failing grade when it comes to basic knowledge about diabetes, according to a recent Harris Interactive survey conducted on behalf of the ADA.


Intensive Lifestyle Intervention Reduces RISKS!
Posted: Monday, November 09, 2009
Four-year results from the Action for Health Diabetes (Look AHEAD) study has shown that an intensive lifestyle intervention designed to achieve and maintain weight loss over the long term produces sustained weight loss and improvements in fitness, as well as improvements in glycemic control, systolic blood pressure, and HDL-cholesterol levels.


Increasing Fiber Decreases Belly Fat
Posted: Monday, November 09, 2009
Eating just a little bit more fiber could have a big impact in trimming the waistlines of America's young people, new research shows.


Costa Rica Travel Corp. will donate a portion of the proceeds to and is a sponsor of Defeat Diabetes Foundation.
Send your unopened, unexpired test strips to

:


Defeat Diabetes Foundation
150 153rd Ave, Suite 300
Madeira Beach, FL 33708
DDF advertisement
Analyze nutrition content by portion
DDF advertisement