This site complies with the HONcode standard for trustworthy health information:
verify here.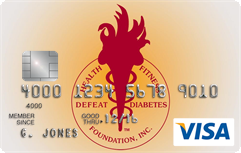 Rewarding for
you and us
Defeat Diabetes Foundation
Defeat Diabetes
Foundation
150 153rd Ave,
Suite 300
Madeira Beach, FL 33708
About Diabetes » Obesity
Search our News Articles Archives for diabetes and health news. Search by word or phrase. The latest article will appear first.
Being Overweight in Middle-Age Linked to Poor Health in Later Years
Posted: Wednesday, November 26, 2003
Having a higher body mass index in middle age may be associated with a poorer health and quality of life in older age.


Weight Management a Therapeutic Priority for Individuals with Type 2 Diabetes
Posted: Tuesday, November 18, 2003
Weight management may be the most important therapy for obese individuals with type 2 diabetes, according to a recent American review. Obesity and weight gain are important risk factors for the development of diabetes and can significantly influence the outcome for those already diagnosed with the disease. Obesity is also a known risk factor for coronary heart disease (CHD), which is responsible for 70% to 80% of deaths in diabetics.


Year 2000 Babies High Risk for Diabetes
Posted: Tuesday, October 21, 2003
One in three babies born in 2000 will likely develop diabetes in their lifetime, new CDC calulationsshow. Women and minorities face the greatest risk.Obesity is the driving factorfor th increase."The message here is for all Americans--diabetes is an epidemic."But thegood news is that in the last few years, studies are showing that it can be prevented or a least delayed."


Even Health Professionals Who Treat Obesity Are Biased Against Overweight Patients
Posted: Monday, October 06, 2003
On both implicit and explicit measures, health professionals associated the stereotypes lazy, stupid and worthless with obese people.The findings were particularly noteworthy since the sample was comprised of professionals who treat and study obesity, a group that understands that obesity results from genetic and environmental factors and is not simply a function of individual behavior


Researchers Discover Molecular Switch That Tells Body to Store or Burn Fat
Posted: Friday, July 26, 2002
An enzyme called SCD-1 plays a crucial role — through the hormone leptin — in signaling the body to either store fat or burn it.


Diet High in Dairy Products Reduces Risk of Insulin Resistance
Posted: Wednesday, July 24, 2002
Overweight individuals who consumed the highest amount of dairy products were 72% less likely then those with a low-diary diet to develop insulin resistance syndrome (IRS).


Walk Away From Diabetes
Posted: Wednesday, July 24, 2002
Study finds modest execise alone reduces risk factors for Type ll diabetes


Losing a Few Pounds May Help the Obese
Posted: Tuesday, June 04, 2002

For the obese, a small loss may be a big victory. Evidence is building that really heavy people may be able to greatly improve their odds of dodging weight-related illnesses while remaining very heavy.

The secret: Lose just a few pounds. Weight reduction, it appears, is powerful medicine for the large, no matter how seemingly insignificant the dose


Costa Rica Travel Corp. will donate a portion of the proceeds to and is a sponsor of Defeat Diabetes Foundation.
Send your unopened, unexpired test strips to

:


Defeat Diabetes Foundation
150 153rd Ave, Suite 300
Madeira Beach, FL 33708
DDF advertisement
Analyze nutrition content by portion
DDF advertisement