This site complies with the HONcode standard for trustworthy health information:
verify here.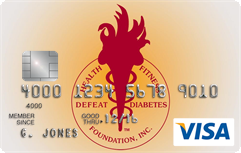 Rewarding for
you and us
Defeat Diabetes Foundation
Defeat Diabetes
Foundation
150 153rd Ave,
Suite 300
Madeira Beach, FL 33708
About Diabetes » Prevention
Search our News Articles Archives for diabetes and health news. Search by word or phrase. The latest article will appear first.
Floridian Circles the U.S. to Raise Awareness for Diabetes Research
Posted: Thursday, May 22, 2008
His large athletic shoes churned down North Dixie Freeway this past week. Mile after mile of American roadway has slipped away under the long-distance tread of Andy Mandell, a man on a mission. "When people see me walking, I want them to think, 'there goes Mr. Diabetes,'" said Mr. Mandell.


Low Salt Diets May Lead To Cardiovascular Deaths
Posted: Sunday, May 18, 2008
It's been long believed that a diet high in salts increases the risk of death from cardiovascular disease (CVD). Researchers at the Albert Einstein College of Medicine have startlingly found just the opposite: that low salt (sodium) diets increase the incidence of CVD deaths.


Obesity, Diabetes and Economic Status Increase Risk of Urinary Problems
Posted: Saturday, May 17, 2008
Obesity and unhealthy lifestyle choices greatly increase the risk of urinary problems. Diabetes, heart disease, and high blood pressure, are also shown to increase risk, and individuals of lower economic standing suffer from urinary problems more often as well.


Blocked Brain Enzyme Decreases Appetite and Promotes Weight Loss
Posted: Thursday, May 15, 2008
A team at DukeUniversityMedicalCenter was able to tone down appetite and promote weight loss, while improving the body's ability to handle blood sugar levels by blocking a brain enzyme, CaMKK2.


Public Food Program A Good Investment
Posted: Tuesday, May 13, 2008
A recent Cornell "cost-effectiveness"study has shown that a New York program that aims to educate low-income adults about healthy diets and nutrition yields a $10 to $1 cost benefit. Low-income individuals characteristically have much higher rates of conditions closely linked to poor diets, such as heart disease and diabetes.


Type 1 Diabetes Progenitor Caught In The Act
Posted: Sunday, May 11, 2008
Immune cells long thought to be the progenitor of type 1 diabetes have been isolated and analyzed, and shown to indeed be key in causing this serious disease. This finding could very well lay the foundations for a preventative technique for type 1 diabetes.


Prediabetes Can Be Reversed
Posted: Wednesday, May 07, 2008
Yes, you can stop diabetes before it begins, but you won't receive the care you need if you don't even know you have the problem. Screening is now recommended for everyone beginning at 45 years of age.


Coversyl® Protects Hypertensive Patients Against New-Onset Diabetes
Posted: Wednesday, May 07, 2008
New analysis of a landmark study data Identifies major predictors of new-onset diabetes (NOD) among hypertensives. Of 19,257 randomized patients in the study, 14,120 were considered "at risk" of developing diabetes at baseline, and 1,366 (9.7%) subsequently developed NOD during follow-up (median duration, 5.5 years).


Some Fats Reduce Diabetes Risk
Posted: Wednesday, May 07, 2008
The link between obesity and diabetes has been significantly documented, but a recent study has revealed that certain types of fats might actually reduce the risk of insulin resistance and diabetes.


Vigorous Walking Slows Biological Aging to a Crawl
Posted: Tuesday, April 29, 2008
Just vigorous walking for about an hour a day five times a week can chop a dozen years off the biological age of persons 64 and older, according to a new research.


Costa Rica Travel Corp. will donate a portion of the proceeds to and is a sponsor of Defeat Diabetes Foundation.
Send your unopened, unexpired test strips to

:


Defeat Diabetes Foundation
150 153rd Ave, Suite 300
Madeira Beach, FL 33708
DDF advertisement
Analyze nutrition content by portion
DDF advertisement