This site complies with the HONcode standard for trustworthy health information:
verify here.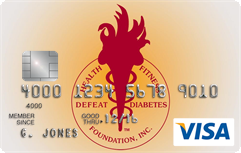 Rewarding for
you and us
Defeat Diabetes Foundation
Defeat Diabetes
Foundation
150 153rd Ave,
Suite 300
Madeira Beach, FL 33708
About Diabetes
Search our News Articles Archives for diabetes and health news. Search by word or phrase. The latest article will appear first.
Preop Glycemic Control Decreases Infection Risk
Posted: Friday, July 07, 2006
Tight control of glucose in the postoperative period results in fewer complications, including infections, and decreased mortality in both diabetic and nondiabetic patients.


Low-Carb Diet Has Lasting Benefits in Obese Type 2 Diabetics
Posted: Friday, July 07, 2006
In motivated, obese type 2 diabetic patients, a low-carbohydrate diet with some caloric restriction has lasting benefits on body weight and glycemic control, often reducing the need for medication.


Children of Diabetics Have Early Artery Disease
Posted: Friday, July 07, 2006
Adult children who have two parents with type 2 diabetes, but who are free from the disease themselves, have early signs of atherosclerosis, the results of a study shows.


Exenatide Reduces Insulin Use in Type 2 Diabetics
Posted: Friday, July 07, 2006
Exenatide therapy results in weight loss and a substantial decrease in insulin doses in some of the most difficult-to-manage patients with type 2 diabetes.


Metformin Induces Long-Term Weight Loss in Teens
Posted: Friday, July 07, 2006
Metformin can induce long-term weight loss in obese, non-diabetic adolescents, and could possibly be useful in a regimen to help achieve weight loss in adolescents, who may have developed type 2 diabetes type due to overweight.


Sanofi's Acomplia (rimonabant) Weight Loss Drug Gets EU Approval
Posted: Friday, July 07, 2006
The European Commission has approved 20-mg tablets of rimonabant for use as an adjunct to diet and exercise in the treatment of obese or overweight patients with associated cardiometabolic risk factors such as type 2 diabetes or dyslipidemia.


Six Plus Cups of Coffee Helps Keep Diabetes Away
Posted: Friday, July 07, 2006
Women who drank more than six cups a day of any type of coffee were 33 percent less likely to develop type 2 diabetes.


Report: Gardenia Fruit Compound Starting Point For Diabetes Therapy
Posted: Friday, June 30, 2006
A Gardenia fruit extract traditionally used in Chinese medicine to treat the symptoms of type 2 diabetes does indeed contain a chemical that reverses some of the pancreatic dysfunctions that underlie the disease, researchers report in the June 7, 2006, Cell Metabolism. The chemical therefore represents a useful starting point for new diabetes therapies, they said.


LDL Cholesterol Below Recommended Levels Is Better
Posted: Friday, June 30, 2006
Lowering LDL ("bad") cholesterol levels substantially below currently recommended levels significantly reduces the chances that people with diabetes and heart disease will suffer a stroke or heart attack, researchers report.


AHA Dietary and Lifestyle Recommendations Revised June, 2006
Posted: Friday, June 30, 2006
The 2006 AHA diet and lifestyle recommendations include guidelines for a healthy diet; healthy weight; cholesterol, BP, and fasting blood sugar control; use of supplements; physical activity; and avoidance of tobacco.


Costa Rica Travel Corp. will donate a portion of the proceeds to and is a sponsor of Defeat Diabetes Foundation.
Send your unopened, unexpired test strips to

:


Defeat Diabetes Foundation
150 153rd Ave, Suite 300
Madeira Beach, FL 33708
DDF advertisement
Analyze nutrition content by portion
DDF advertisement