This site complies with the HONcode standard for trustworthy health information:
verify here.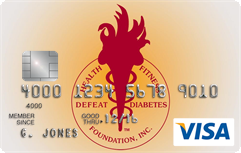 Rewarding for
you and us
Defeat Diabetes Foundation
Defeat Diabetes
Foundation
150 153rd Ave,
Suite 300
Madeira Beach, FL 33708
About Diabetes
Search our News Articles Archives for diabetes and health news. Search by word or phrase. The latest article will appear first.
Diabetes Has Protective Effect on Bone Density
Posted: Friday, July 21, 2006
Type 2 diabetes mellitus is associated with significantly lower bone turnover and higher results on bone ultrasound measurements, even in a largely vitamin-D-deficient, elderly, female nursing home population.


Once A Day Insulin As Effective as Multiple Injections For Type 2's
Posted: Friday, July 21, 2006
Patients with type 2 diabetes may be able to achieve the same glucose control with fewer injections a day.


Obesity, Diabetes Drive High Rate of Kidney Failure in U.S.
Posted: Friday, July 21, 2006
Study shows marked difference between Americans and leaner Norwegian patients.


Atorvastatin Lowers Cholesterol, But Does Not Prevent Cardiac Events in Diabetic
Posted: Friday, July 21, 2006
Although atorvastatin therapy led to a significant reduction in mean LDL cholesterol level in patients with type 2 diabetes, there was no significant difference from placebo in cardiac events, such as cardiovascular death and myocardial infarction (MI).




Diabetes Protein Linked to Asthma
Posted: Friday, July 21, 2006
A protein previously linked to the development of type 2 diabetes and atherosclerosis may also be associated with asthma, a new study suggests. Researchers say it regulates inflammation in airways.


Cystic Fibrosis -- Related to Diabetes
Posted: Friday, July 21, 2006
Diabetes in cystic fibrosis stems from a faulty gene that blocks the normal passage of salt and water through the body's cells. It is this gene deficiency that is proposed to cause insulin-producing cells to malfunction.


Metabolic Syndrome Predicts Breast Cancer Recurrence
Posted: Friday, July 21, 2006
Metabolic syndrome, especially if associated with elevated testosterone, is "an important prognostic factor" in the recurrence of breast cancer, In a small study 50% of the women with metabolic syndrome developed breast cancer recurrence.


Short Legs Early Risk Factor for Type 2 Diabetes
Posted: Friday, July 21, 2006
Being short and especially having short legs appear to increase the risk being overweight and developing type 2 diabetes in middle age, new research shows.


New Study Shows Cinnamon Lowers Blood Sugar Levels In Type 2's
Posted: Friday, July 14, 2006
A water-soluble, cinnamon extract has been shown to reduce fasting blood sugar levels in patients with type 2 diabetes, according to a new study from the University of Hannover in Hannover, Germany.


Walking Faster Improves Diabetes Control
Posted: Friday, July 14, 2006
A study of overweight individuals with type 2 diabetes shows that people get can get more out of their daily walks by picking up the pace, which can improve cardiovascular and blood sugar control.


Costa Rica Travel Corp. will donate a portion of the proceeds to and is a sponsor of Defeat Diabetes Foundation.
Send your unopened, unexpired test strips to

:


Defeat Diabetes Foundation
150 153rd Ave, Suite 300
Madeira Beach, FL 33708
DDF advertisement
Analyze nutrition content by portion
DDF advertisement