This site complies with the HONcode standard for trustworthy health information:
verify here.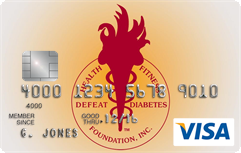 Rewarding for
you and us
Defeat Diabetes Foundation
Defeat Diabetes
Foundation
150 153rd Ave,
Suite 300
Madeira Beach, FL 33708
About Diabetes
Search our News Articles Archives for diabetes and health news. Search by word or phrase. The latest article will appear first.
Fat Accumulation Is A Key Factor In Diabetes Risk
Posted: Wednesday, March 12, 2008
The amount of fat a person accumulates in relation to their body size as they grow into adulthood, not their birth size or their growth per se, influences their risk of developing type 2 diabetes, results of a new study suggest.


Heart Attacks Doubled in Past Ten Years for Diabetics
Posted: Wednesday, March 12, 2008
With the epidemic of diabetes, the annual number of diabetics who have a heart attack has doubled over the past ten years, researchers say.


Diabetes Type Affects Joint Replacement Outcomes
Posted: Wednesday, March 12, 2008
People with type 1 diabetes who undergo total hip or knee replacement generally fare worse than people with type 2 diabetes, who in turn do worse than non-diabetic patients, according to study findings.


Surgery To Cure Type 2 Diabetes?
Posted: Monday, March 10, 2008
Recent research has found that the small intestine might be responsible for the onset of Type 2 diabetes. If this turns out to be true, Type 2 diabetes might be operable, and will certainly be better understood.


Prompt Primary Care Reduces Need For Hospitalization
Posted: Saturday, March 08, 2008
Diabetic ketoacidosis (DKA, a near complete deficiency in insulin), digestive haemorrhage and chronic bronchitis, are three very common conditions experienced by the elderly community, often requiring hospitalization. A recent study has found that prompt and efficient primary care for these conditions reduces the need for hospitalization by more than 50%, while other conditions are affected significantly, but to a lesser degree.


New Test Enables Diabetics to Detect Peripheral Neuropathy
Posted: Thursday, March 06, 2008
The indicator plaster neuropad (IPN) is a new test that can be used by diabetic patients to identify peripheral neuropathy, according to a new published report in the February issue of Diabetes Care.


Diabetes Diagnostic Criteria May Be Off Target for Retinopathy
Posted: Thursday, March 06, 2008
Retinopathy occurs at substantial rates even when glucose levels are below those that would trigger a diagnosis of pre-diabetes, according to a meta-analysis.


Diabetes In Pregnancy Increases Children's Diabetes Risk
Posted: Thursday, March 06, 2008
Researchers have identified a link between the occurrence of type 2 diabetes in adults and the presence of type 1 diabetes or pregnancy-related diabetes in their mothers.


Overweight Hispanic Kids Show Early Markers for Diabetes
Posted: Thursday, March 06, 2008
Blood vessel damage sets stage for insulin resistance, heart disease, study finds.


Insulin Resistance Predicts Stroke, Vascular Risk in Nondiabetics
Posted: Thursday, March 06, 2008
A new analysis from the Northern Manhattan Study suggests that insulin resistance is associated with an increased risk for a first ischemic stroke and combined vascular events in nondiabetics.


Costa Rica Travel Corp. will donate a portion of the proceeds to and is a sponsor of Defeat Diabetes Foundation.
Send your unopened, unexpired test strips to

:


Defeat Diabetes Foundation
150 153rd Ave, Suite 300
Madeira Beach, FL 33708
DDF advertisement
Analyze nutrition content by portion
DDF advertisement