This site complies with the HONcode standard for trustworthy health information:
verify here.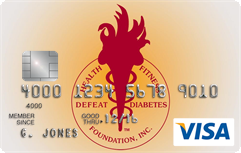 Rewarding for
you and us
Defeat Diabetes Foundation
Defeat Diabetes
Foundation
150 153rd Ave,
Suite 300
Madeira Beach, FL 33708
Research » Obesity
Search our News Articles Archives for diabetes and health news. Search by word or phrase. The latest article will appear first.
Capsaicin, In Red Pepper Inhibits the Growth of Fat Cells
Posted: Thursday, March 08, 2007
Obesity may be reduced by preventing immature fat cells (adipocytes) from developing into mature cells, and other studies have shown that capsaicin can decrease the amount of fat tissue and decrease fat levels in the blood.


How A Specific Fat Protects Against Obesity and Diabetes
Posted: Thursday, March 08, 2007
A new study from Joslin Diabetes Center sheds light on why some people can eat excessive amounts of food and not gain weight or develop type 2 diabetes, while others are more likely to develop obesity and this most common form of diabetes on any diet.


Diabetes's Spread Will Exceed All Predictions, Study Finds
Posted: Thursday, March 08, 2007
The World Health Organization's estimate of 39 percent growth in diabetes cases between 2000 and 2030 may be an underestimate, according to a study of cases in Canada. At least 171 million people have diabetes worldwide, and the number will climb to 366 million by 2030, WHO estimates.


Shedding Pounds from Diet or Exercise—Take Your Pick
Posted: Wednesday, February 21, 2007
People looking to lose those extra pounds have been told for decades that dieting together with exercise will bring about the best results. Not so, says new research.


Older Adults Face Double Whammy When It Comes to Body Fat
Posted: Wednesday, February 14, 2007
According to new research from Wake Forest University School of Medicine and colleagues. Up until age 80, older adults not only gain fat as they age – but because of the obesity epidemic – they actually begin their older years fatter.


Bile Acid-Binding Resin Treats Diabetes
Posted: Friday, February 02, 2007
Colestimide, a resin that binds and eliminates bile acids, seems to be an effective treatment for obesity and type 2 diabetes -- according to a new report.


Gaining Weight Influences Earning Power
Posted: Friday, February 02, 2007
Just a 10 percent increase in body mass index, a measure of weight relative to height, can cut a man's real earnings by 3.3 percent and a woman's by 1.8 percent, economists said.


Weight Loss Linked to CRP Reductions
Posted: Thursday, January 25, 2007
Shedding pounds—through diet, exercise, or surgery—consistently lowers CRP, regardless of the type of weight-loss intervention, a new review study suggests.


Insulin Glargine Benefits Uncontrolled Type 2's on Oral Meds Without Weight Gain
Posted: Thursday, January 18, 2007
Over 2000 type 2 patients lower their A1c 1.7 pts when insulin gargine is added to their oral therapy without weight gain.


Being Overweight May Just Be Body Chemistry at Work
Posted: Thursday, January 18, 2007
You can lose weight by outsmarting the system that regulates appetite.


Costa Rica Travel Corp. will donate a portion of the proceeds to and is a sponsor of Defeat Diabetes Foundation.
Send your unopened, unexpired test strips to

:


Defeat Diabetes Foundation
150 153rd Ave, Suite 300
Madeira Beach, FL 33708
DDF advertisement
Analyze nutrition content by portion
DDF advertisement