This site complies with the HONcode standard for trustworthy health information:
verify here.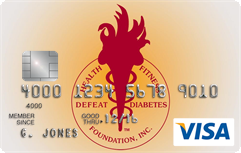 Rewarding for
you and us
Defeat Diabetes Foundation
Defeat Diabetes
Foundation
150 153rd Ave,
Suite 300
Madeira Beach, FL 33708
Self-Management » Food
Search our News Articles Archives for diabetes and health news. Search by word or phrase. The latest article will appear first.
Cherries Can Help to Fight Diabetes
Posted: Thursday, December 28, 2006
Michigan State University researchers have reported that chemicals found in cherries may help fight diabetes.


Type 2's Unrealistic About Calories
Posted: Thursday, December 21, 2006
New research suggests that obese adults with diabetes often say they eat less than they actually do -- a problem that can hinder management of the disease, according to researchers.


Exercise Vs. Diet To Lower Type 2 Diabetes Risk
Posted: Thursday, December 21, 2006
Caloric reduction and exercise-induced weight loss both substantially improve risk factors for type 2 diabetes; however, one approach does not appear to be better than the other, a study shows.


Eating Slowly Reduces Caloric Intake by 70%
Posted: Thursday, December 21, 2006
"Put your forks down between bites." Simple yet effective, so start reminding your patients of this simple fact, of eating more slowly can help improve their diabetes.


New York City Bans Trans Fat
Posted: Thursday, December 14, 2006
Department of Health of NY City, shows Trans Fats the Door, after voting unanimously to ban the substance from the city's restaurants.


Once Weekly Fish Consumption Linked to Reduced Cognitive Decline
Posted: Thursday, December 07, 2006
Fish consumption, about one serving per week or more, is associated with reduced cognitive decline, according to the results of a prospective cohort study.


High Sugar Intake Increases Risk for Pancreatic Cancer
Posted: Thursday, November 30, 2006
Consumption of foods and drinks with high sugar content were associated with increased risk for pancreatic cancer, according to the results of a prospective, population-based cohort study of Swedish men and women.


A Cup of Confusion: Is Coffee Healthy or Not?
Posted: Thursday, November 30, 2006
New studies suggest java helps protect against major diseases, including diabetes.


One in Six Americans Have Pre-Diabetes and Most Don't Know It
Posted: Wednesday, November 22, 2006
Fifty-four million Americans, that's one in six of us, have pre-diabetes and most don't even realize it. Mark Schutta, MD, medical director of the Penn Rodebaugh Diabetes Center, is urging at-risk patients to be proactive and ask your doctor to give you a simple blood test for pre-diabetes, to arm yourself with information before the damage is done. It means you have blood glucose levels that are higher than normal and you could one day reach a high enough level that you would be diagnosed with having diabetes.



Enriched Bread Reduces Energy Intake and Increase Feeling of Fullness
Posted: Wednesday, November 22, 2006
New study shows that you can eat bread and lose weight?? Bread enriched with lupin kernel flour at the expense of wheat flour reduced energy intake and increased the feeling of fullness, which may have important implications for weight management.


Costa Rica Travel Corp. will donate a portion of the proceeds to and is a sponsor of Defeat Diabetes Foundation.
Send your unopened, unexpired test strips to

:


Defeat Diabetes Foundation
150 153rd Ave, Suite 300
Madeira Beach, FL 33708
DDF advertisement
Analyze nutrition content by portion
DDF advertisement