This site complies with the HONcode standard for trustworthy health information:
verify here.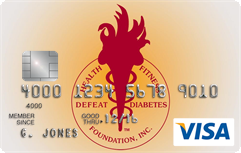 Rewarding for
you and us
Defeat Diabetes Foundation
Defeat Diabetes
Foundation
150 153rd Ave,
Suite 300
Madeira Beach, FL 33708
Self-Management » Children
Search our News Articles Archives for diabetes and health news. Search by word or phrase. The latest article will appear first.
Low Glycemic Index Diet Yields Improvements in Diabetic Youth
Posted: Tuesday, April 29, 2008
In children and adolescents with type 1 diabetes, consumption of a low glycemic index diet may reduce glucose excursions and improve overall glycemic control, according to results of a National Institutes of Health-sponsored study.


Diabetic Child Dies While Parents Pray
Posted: Tuesday, April 29, 2008
Madeleine Neumann, an 11 year old type 1 diabetic, died March 23rd due to lack of treatment for her condition. Her parents, Dale and Leilani Neumann, viewed their daughters worsening condition as "a test of faith," and instead of getting her medical help, let her die while they prayed. The parents have been charged with second-degree reckless homicide and face up to 25 years in prison.


Child Screen Time Associated With Obesity
Posted: Wednesday, April 16, 2008
Obesity is a growing problem in America, especially among its youth. Lack of exercise in children, often supplanted by time in front of television and computer screens, greatly increases the chance of a child being obese, a new study shows. The American Academy of Pediatrics (AAP) had previously made a list of suggestions to pediatricians, parents, and children alike, in order to best manage their physical activity and "screen time." The study aimed to test these suggestions.


Omega-3 Intake During Pregnancy Closely Related To Infant Development
Posted: Friday, April 11, 2008
Omega-3 fatty acid consumption during the last trimester of pregnancy appears to help with the motor and cognitive development of the infant. Higher omega-3 concentrations in the blood of the infants (which was also representative of a higher content in the mothers blood) was revealed to be strongly correlated to advanced development, according to a recent study.


Epidemic Of Type 2 Diabetes Linked To Vaccine Inflammation
Posted: Wednesday, April 09, 2008
Newly published data by Dr. J. Barthelow Classen in The Open Endocrinology Journal shows a 50% reduction of type 2 diabetes occurred in Japanese children following the discontinuation of a single vaccine to prevent tuberculosis.


Not Enough Sleep As A Child Could Lead To Future Problems
Posted: Tuesday, April 08, 2008
Children with sleeping problems are more likely to develop psychological problems, such as depression, aggression and anxiety, according to a new study.


Inactive Children at High Risk For Metabolic Syndrome
Posted: Saturday, April 05, 2008
Children leading a sedentary life style are much more likely to develop heart problems, a recent study has shown. Researchers investigating early onset metabolic syndrome (MS) in adolescents concluded that inactive kids were more than six times more likely to develop MS by their teenage years than those with active lifestyles.


Parents With High Blood Pressure Pass It On to Their Children
Posted: Friday, April 04, 2008
Individuals who have one or two parents with hypertension appear to have a significantly increased risk of developing elevated blood pressure throughout their adult lives. Hypertension, or high blood pressure, often clusters in families, according to background information in the article. Researchers estimate that between 35 percent and 65 percent of high blood pressure is heritable.


Caesarean Births More Often The Last
Posted: Thursday, April 03, 2008
Women who have their first child by Caesarean section birth are less likely to have subsequent children, a recent study reports. With over 600,000 births being accounted for, it was found that women giving birth to their first-born are 12 percent less likely to have more than one child than those that deliver their first-born vaginally.


Cognitive Impairment May Precede Type 2 Diabetes
Posted: Wednesday, March 26, 2008
Impaired cognitive function at age 11 appears to be associated with an increased risk of developing type 2 diabetes later in life, a study indicates.


Costa Rica Travel Corp. will donate a portion of the proceeds to and is a sponsor of Defeat Diabetes Foundation.
Send your unopened, unexpired test strips to

:


Defeat Diabetes Foundation
150 153rd Ave, Suite 300
Madeira Beach, FL 33708
DDF advertisement
Analyze nutrition content by portion
DDF advertisement