This site complies with the HONcode standard for trustworthy health information:
verify here.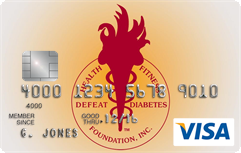 Rewarding for
you and us
Defeat Diabetes Foundation
Defeat Diabetes
Foundation
150 153rd Ave,
Suite 300
Madeira Beach, FL 33708
Self-Management » Exercise
Search our News Articles Archives for diabetes and health news. Search by word or phrase. The latest article will appear first.
Obesity a Genetic Trait?
Posted: Tuesday, February 19, 2008
A distinctive neural circuitry that controls appetite in some obese individuals may be an innate genetic trait, and may be at least partially responsible for their obesity. A recent study at the University of Southern California, conducted on mice, has shown that the brains of DIO (diet induced obesity) mice often are wired differently than those of normal-weight mice.


Studies Identify Modifiable Factors Associated With Exceptionally Long Life
Posted: Thursday, February 14, 2008
A healthy lifestyle during the early elderly years, including weight management, exercising regularly and not smoking, may be associated with a greater probability of living to age 90 in men, as well as good quality of life.


Reduced Exercise Capacity Associated with Future Cardiac Events
Posted: Thursday, February 14, 2008
People who have trouble exercising on a treadmill are at increased risk of suffering a heart attack or other heart-related event and of dying, according to results of a study.


Endocrinologist Shortage Represents Significant Threat to Public Health
Posted: Thursday, February 07, 2008
A new analysis supports what many in the healthcare field already suspect, that demand for endocrinologists in the United States far exceeds supply, and this shortfall in medical care will only get worse in the coming years.


Decrease All-Cause Mortality by 70% with Increased Fitness
Posted: Friday, February 01, 2008
One of the largest studies ever to link exercise capacity to mortality risk should motivate physicians to pay as much attention to patients' exercise capacity as they do other major risk factors, researchers say.


Link Between Vitamin E and Decline in Physical Function
Posted: Wednesday, January 23, 2008
Low serum concentration of vitamin E, an indication of poor nutrition, is associated with physical decline for older persons, according to a study in the January 23 issue of JAMA.


Key to a Long Life - Staying Active and Drinking Moderately
Posted: Wednesday, January 23, 2008
Both physical activity and a moderate alcohol intake are important to lower the risk of fatal ischemic heart disease (IHD) and all-cause mortality, a new study shows.


Healthy Lifestyle Choices Shown To Increase Life Expectancy
Posted: Tuesday, January 22, 2008
Not smoking, eating five servings or more of fruits and vegetables per day, drinking alcohol only in moderation (0-1.5 drinks per day), and maintaining a high level of physical activity are well known to be healthy lifestyle choices. A recent study at the University of Cambridge, England, has helped quantitatively show just how beneficial maintaining these four lifestyle choices is.


The Magic Pill: A New Drug That Mimics Healthy Lifestyle Effects
Posted: Tuesday, January 15, 2008
The magic ingredient in wine is being studied to reduce the effects of diabetes and aging.


Diabetes Risk Factors Linked to Neighborhoods
Posted: Tuesday, January 15, 2008
Researchers found that people who lived in neighborhoods that were more conducive to exercise and healthy eating were less likely to have insulin resistance, a precursor to diabetes.


Costa Rica Travel Corp. will donate a portion of the proceeds to and is a sponsor of Defeat Diabetes Foundation.
Send your unopened, unexpired test strips to

:


Defeat Diabetes Foundation
150 153rd Ave, Suite 300
Madeira Beach, FL 33708
DDF advertisement
Analyze nutrition content by portion
DDF advertisement