This site complies with the HONcode standard for trustworthy health information:
verify here.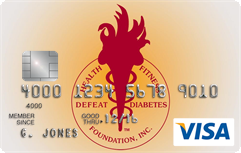 Rewarding for
you and us
Defeat Diabetes Foundation
Defeat Diabetes
Foundation
150 153rd Ave,
Suite 300
Madeira Beach, FL 33708
Self-Management » Exercise
Search our News Articles Archives for diabetes and health news. Search by word or phrase. The latest article will appear first.
New-Onset Diabetes in Older Adults Attributable to Lifestyle
Posted: Tuesday, May 12, 2009
Numerous lifestyle factors affect older adults' risk of diabetes, a new study finds. As the population ages, even small changes affect incidence, study finds.


Fifty Percent of African Americans Die from Causes that Can Be Prevented or Treated
Posted: Tuesday, May 12, 2009
Two-thirds of the difference between death rates among African Americans and Caucasians are now due to causes that could be prevented or cured, according to a new study.
"People should not be dying prematurely from stroke, hypertension, diabetes, colon cancer, appendicitis or the flu..."


Exercise Following Low Glucose Meals Optimizes Fat Burning
Posted: Tuesday, April 14, 2009
There is much debate amongst doctors, nutritionists, and fitness experts, as to the optimal circumstances for exercise. Some believe that early morning, pre-food consumption exercise, is best for burning calories and enhancing metabolism, while others have a variety of ideas of what is best to consume before physical activity. A recent study suggests that consuming a meal low in glucose before exercising is most effective in burning fat and promoting general health.


Sustained Exercise Important for Children
Posted: Thursday, March 19, 2009
Childhood obesity is a rising global concern, and insufficient activity levels are a primary reason. It's unknown, however, what is the optimal form of exercise for children, in order to help prevent obesity. A recent study has found that "sustained" exercise, defined as constant activity in excess of five minutes, is more beneficial than "sporadic" exercise.


Psoriasis Patients at Increased Diabetes, Heart Disease Risk
Posted: Tuesday, March 17, 2009
People with severe psoriasis are at an increased risk of developing serious medical conditions, including cardiovascular disease and diabetes, says a dermatologist from the University of Pennsylvania.


Diabetes Drugs Given 'Too Soon'?
Posted: Tuesday, March 17, 2009
One in three people with Type 2 diabetes are given medication too soon, instead of being urged to eat better and do more exercise, a UK study suggests.


Power to Prevent: Helping African Americans Prevent Type 2 Diabetes
Posted: Tuesday, March 17, 2009
"Power to Prevent: A Family Lifestyle Approach to Diabetes" helps African Americans learn how to prevent or delay Type 2 diabetes through physical activity and making healthy food choices.


Lifestyle Program for Diabetics Improves Mind, Body and Wallet by 87%
Posted: Wednesday, March 11, 2009
Workers with diabetes and obesity improved their absenteeism and disability rate by as much as 87 percent with the help of a lifestyle intervention program administered by researchers at the University of Virginia Health System.


New Guidelines for Physical Activity Intervention for Weight Loss
Posted: Wednesday, March 11, 2009
The American College of Sports Medicine (ACSM) has updated its guidelines for appropriate physical activity (PA) intervention strategies for weight loss and prevention of weight regain in adults.


Midwestern and Southern States Receive Least Federal Funding for Disease Prevention
Posted: Tuesday, March 10, 2009
New report finds public health programs at risk during economic downturn. Trust for America's Health (TFAH) and the Robert Wood Johnson Foundation (RWJF) released a new report that found Midwestern and Southern states received less funding from the federal government than Northeastern and Western states did in fiscal year (FY) 2008 for disease prevention programs, which can amount to millions of dollars in differences.


Costa Rica Travel Corp. will donate a portion of the proceeds to and is a sponsor of Defeat Diabetes Foundation.
Send your unopened, unexpired test strips to

:


Defeat Diabetes Foundation
150 153rd Ave, Suite 300
Madeira Beach, FL 33708
DDF advertisement
Analyze nutrition content by portion
DDF advertisement