This site complies with the HONcode standard for trustworthy health information:
verify here.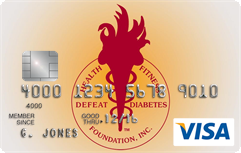 Rewarding for
you and us
Defeat Diabetes Foundation
Defeat Diabetes
Foundation
150 153rd Ave,
Suite 300
Madeira Beach, FL 33708
Self-Management » Control
Search our News Articles Archives for diabetes and health news. Search by word or phrase. The latest article will appear first.
Cancer More Deadly For People With Diabetes
Posted: Wednesday, March 11, 2009
Cancer, the world's No. 2 killer, is even more lethal for people with diabetes, U.S. researchers said last week. People with diabetes who get cancer are about 40 percent more likely to die in the years following the diagnosis than cancer patients who are not diabetics.


Diabetes Linked to Pregnancy-Related Depression in Low-Income Women
Posted: Wednesday, March 11, 2009
Among low-income pregnant women, those with diabetes have almost twice the odds of having perinatal depression and are also more likely to have postpartum depression, researchers report.


Midwestern and Southern States Receive Least Federal Funding for Disease Prevention
Posted: Tuesday, March 10, 2009
New report finds public health programs at risk during economic downturn. Trust for America's Health (TFAH) and the Robert Wood Johnson Foundation (RWJF) released a new report that found Midwestern and Southern states received less funding from the federal government than Northeastern and Western states did in fiscal year (FY) 2008 for disease prevention programs, which can amount to millions of dollars in differences.


Diabetes, High Cholesterol and Cardiovascular Disease Speed-Up Alzheimer's
Posted: Monday, March 09, 2009
Diabetes and high cholesterol speed up the process of cognitive decline in Alzheimer's patients, a recent study has shown. Cardiovascular disease was also linked to more rapid mental deterioration, but only in individuals possessing a certain "apolipoprotein" that is sometimes associated with Alzheimer's disease.


Forced Eating as a Child Could Lead to Future Over-Eating
Posted: Sunday, March 08, 2009
A common parental action is the encouragement, or even requirement, that their children finish all the food given to them at a meal. A recent Cornell University study has shown that this behaviour, while often well-intentioned, appears to hinder the development of the child's appetite control, which leads to over-eating outside the home.


Statins Associated With Lower All-Cause Mortality, Even in Primary Prevention
Posted: Wednesday, March 04, 2009
Primary- and secondary-prevention patients who consistently take their statin medication have a significantly lower risk of death than those who do not adhere to therapy, a new study has shown [1]. Individuals who took their medication at least 90% of the time had a 45% reduction in the risk of all-cause mortality, compared with less adherent patients, report investigators.


Diabetics Can Choose Their Energy-Restricted Diets
Posted: Wednesday, March 04, 2009
For people with type 2 diabetes, diets high in either monounsaturated fatty acids or carbohydrates are good -- as long as the calories they contain are limited.


Obese and Diabetic Individuals Produce High Levels of Muscle Blocking Protein
Posted: Saturday, February 28, 2009
A recent study has found that there is an additional obstacle in obtaining good health for obese individuals, as well as type 2 diabetics, in that these conditions lead to the production of a certain protein that inhibits muscle growth. This troubling mechanism also appears to be a strong link between pre-diabetes and full-blown type 2 diabetes.


Camel Milk Helps Prevent Diabetes
Posted: Thursday, February 26, 2009
In a country with far and away the highest incidence of diabetes in the world, a potential preventative treatment has been found in an unlikely place; camels. According to researchers in Bikaner, India, camel milk contains sufficient levels of insulin to help prevent, and perhaps treat, both type 1 and type 2 diabetes.


HbA1c Levels Inversely Tied to Cognition in Diabetics
Posted: Tuesday, February 24, 2009
As HbA1c levels rise, cognitive function falls in patients with type 2 diabetes and other cardiovascular risk factors.


Costa Rica Travel Corp. will donate a portion of the proceeds to and is a sponsor of Defeat Diabetes Foundation.
Send your unopened, unexpired test strips to

:


Defeat Diabetes Foundation
150 153rd Ave, Suite 300
Madeira Beach, FL 33708
DDF advertisement
Analyze nutrition content by portion
DDF advertisement