This site complies with the HONcode standard for trustworthy health information:
verify here.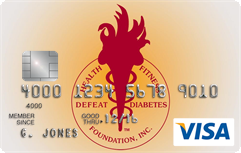 Rewarding for
you and us
Defeat Diabetes Foundation
Defeat Diabetes
Foundation
150 153rd Ave,
Suite 300
Madeira Beach, FL 33708
Health & Fitness » Diet
Search our News Articles Archives for diabetes and health news. Search by word or phrase. The latest article will appear first.
How Do High Carb Diets Lead To Obesity And Diabetes?
Posted: Sunday, November 07, 2004
Dr. Kosaku Uyeda, professor of biochemistry, has shown that a single protein called carbohydrate response element binding protein (ChREBP), discovered by his research group, activates several genes that cause cells in the liver to turn sugar into fat.


Mediterranean Diet Improves Survival in Elderly
Posted: Thursday, September 30, 2004
Among 70- to 90-year-olds, adherence to a Mediterranean diet and healthful lifestyle is associated with a more than 50% lower rate of all-cause and cause-specific mortality.



Calorie Restriction Reduces Risk of MI, Stroke and Diabetes
Posted: Tuesday, August 17, 2004
People who restrict their caloric intake drastically reduce their risk of developing diabetes or atherosclerosis.

In fact, according to researchers some risk factors were so low they were comparable with those of people decades younger.



Medicare Redefines Obesity as an Illness Not A Disease
Posted: Wednesday, July 21, 2004
Medicare now recognizes obesity as an illness, a change in policy that may allow millions of overweight Americans to make medical claims for treatments such as stomach surgery t programs.



Airlines To Offer In-Flight Disease Prevention Program
Posted: Monday, July 19, 2004
Later this month the airline, which is operated by Delta Airlines, plans to begin offering an in-flight exercise program. For $8, travelers can buy an elastic band to stretch or a squeezable stress ball. They'll also get a manual designed by gym owner David Barton, to guide them through an in-seat workout. The move is aimed at promoting health and competing with rival low-cost carrier JetBlue which offers an in-flight exercise program. Rival JetBlue already had a yoga program, and has added Pilates.




Artificial Sweetener Disrupts Body's Ability To Count Calories
Posted: Wednesday, July 14, 2004
Study shows that switching to a diet drink may not be the best solution to fight obesity. Artificial sweeteners may disrupt the body's natural ability to "count" calories based on foods' sweetness.


Losing a Few Pounds May Help the Obese
Posted: Friday, June 04, 2004
For the obese, a small loss may be a big victory. Evidence is building that really heavy people may be able to greatly improve their odds of dodging weight-related illnesses while remaining very heavy.
The secret: Lose just a few pounds. Weight reduction, it appears, is powerful medicine for the large, no matter how seemingly insignificant the dose.



Physical Activity Does More Than Burn Calories & Improve Diabetes Control
Posted: Thursday, June 03, 2004
Physical activity lowers body weight, cuts cardiovascular risk and blood pressure, improves lipid profiles, has positive effects on the immune system and can reduce the risk of cancers. It strengthens the heart, helps the lungs function better, enables the blood to carry more oxygen, makes muscles stronger and improves motion in the joints. Why isn't it considered a treatment?



Obesity Poll Method
Posted: Saturday, May 29, 2004
The Associated Press-Ipsos poll on attitudes about diet and obesity is based on telephone interviews with 1,000 randomly selected adults from all states except Alaska and Hawaii. The interviews were conducted May 17-19 by Ipsos-Public Affairs.

Results were weighted to represent the population by demographic factors such as age, sex, religion and education.




How To Impact Your Patients Lifestyles in 20 Minutes!
Posted: Friday, May 14, 2004
During the 20 minutes we were able to talk briefly about food labels and counting carbohydrates.

Next we ask, from what you learned, what is the most important item on the food label? They replied, of course, carbohydrates! I then explain the most important part of the food label is PORTION SIZE. I then go on to explain that there are other things that should also be aware of on the label Calories, Fats, and Salt


Costa Rica Travel Corp. will donate a portion of the proceeds to and is a sponsor of Defeat Diabetes Foundation.
Send your unopened, unexpired test strips to

:


Defeat Diabetes Foundation
150 153rd Ave, Suite 300
Madeira Beach, FL 33708
DDF advertisement
Analyze nutrition content by portion
DDF advertisement