This site complies with the HONcode standard for trustworthy health information:
verify here.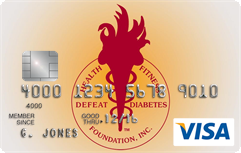 Rewarding for
you and us
Defeat Diabetes Foundation
Defeat Diabetes
Foundation
150 153rd Ave,
Suite 300
Madeira Beach, FL 33708
Health & Fitness » Diet
Search our News Articles Archives for diabetes and health news. Search by word or phrase. The latest article will appear first.
Eat and Exercise To Prevent Diabetes
Posted: Thursday, October 06, 2011
If the penetration level of diabetes in Kuwait is 25% today, I can assure you that is temporary because the figure goes up all the time. So the advice I can give to Kuwaitis, and all other nationalities around the world, is to see a doctor, eat right and exercise because the figure for Kuwait only forms part of the 366 million world total for the disease, said Andrew Mandell (Mr. Diabetes®) as he spoke at a lecture on Diabetes Awareness and Education titled "Diabetes: Defeating it at an Early Age" at the AWARE Center Tuesday.


Five Ways To Fight Diabetes
Posted: Tuesday, October 04, 2011
People can lower their risk of diabetes by doing five things. At the National Institutes of Health, researcher Jared Reis saw that in data on more than 200,000 people. He looked at following a healthy diet, having a healthy weight, being physically active, limiting drinking, and not smoking. He says those five activities paid off.


Almonds Can Improve Diabetes Control
Posted: Saturday, October 01, 2011
Two new studies into the potential health benefits of eating almonds have supported evidence that they can help people with type 2 diabetes to maintain their blood glucose and cholesterol levels.


EASD: Thorough Chewing Raises Hormones Regulating Food Intake
Posted: Sunday, September 25, 2011
Thorough chewing stimulates the release of 2 intestinal peptides that reduce appetite and food intake in obese individuals, according to the results of a study.


Multiple Lifestyle Factors Contribute to Diabetes Risk
Posted: Saturday, September 17, 2011
Collectively, lifestyle factors, including not smoking, regular physical activity, healthy diet, moderate alcohol consumption, and normal body weight, are associated with a substantially decreased risk of developing diabetes, according to new research findings.


Predicting How Diet and Exercise Affect Weight
Posted: Monday, September 12, 2011
Researchers have created a mathematical model—along with an accompanying online weight simulation tool—of what happens when people of varying weights, diets and exercise habits try to change their weight. The model challenges long-held assumptions about weight loss.


How Long a Person Is Overweight May Decide their Diabetes Risk
Posted: Friday, September 09, 2011
Being obese might up the chance of developing Type 2 diabetes, but the true risk factors may lie in how much someone is overweight and how long they've been that way. This is crucial information because we are seeing more obesity in young children.


Combination of Five Lifestyle Factors Linked to Lower Diabetes Risk
Posted: Thursday, September 08, 2011
Research data shows the importance of five lifestyle factors in reducing risk for type 2 diabetes.


NIH Research Model Predicts Weight With Varying Diet, Exercise Changes
Posted: Monday, August 29, 2011
Findings challenge one-size-fits-all weight assumptions.


Antioxidant Spices Reduce Negative Effects of High-Fat Meals by 30 Percent
Posted: Sunday, August 21, 2011
Eating a diet rich in spices, like turmeric and cinnamon, reduces the body's negative responses to eating high-fat meals, according to Penn State researchers.


Costa Rica Travel Corp. will donate a portion of the proceeds to and is a sponsor of Defeat Diabetes Foundation.
Send your unopened, unexpired test strips to

:


Defeat Diabetes Foundation
150 153rd Ave, Suite 300
Madeira Beach, FL 33708
DDF advertisement
Analyze nutrition content by portion
DDF advertisement