This site complies with the HONcode standard for trustworthy health information:
verify here.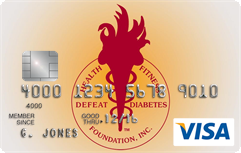 Rewarding for
you and us
Defeat Diabetes Foundation
Defeat Diabetes
Foundation
150 153rd Ave,
Suite 300
Madeira Beach, FL 33708
Health & Fitness
Search our News Articles Archives for diabetes and health news. Search by word or phrase. The latest article will appear first.
Diabetics Ignoring Exercise Advice
Posted: Thursday, February 08, 2007
The higher the A1c, the less likely they will increase their physical activity.


Caffeine Halves Pain After Exercise - Study
Posted: Friday, February 02, 2007
One less excuse not to exercise. Having a caffeine supplement, equivalent to about two cups of coffee, an hour before exercise may reduce muscle pain afterwards by 48 per cent, says researchers. More effective then aspirin, ibuprofen, and naproxen


Study: Most Diabetics Don't Exercise
Posted: Friday, February 02, 2007
Doctors don't have the time to teach and patients are too busy to do what is necessary to improve their health! Medical professionals have to do more!


Weight Loss Linked to CRP Reductions
Posted: Thursday, January 25, 2007
Shedding pounds—through diet, exercise, or surgery—consistently lowers CRP, regardless of the type of weight-loss intervention, a new review study suggests.


National Physical Activity Intervention for Children Works
Posted: Thursday, January 25, 2007
Children aware of VERB™ reported engaging in significantly more physical activity than children unaware of VERB™.

VERB™ It's what you do.It is a national, multicultural, social marketing campaign* coordinated by the U.S. Department of Health and Human Services' Centers for Disease Control and Prevention (CDC).




Simple Therapy Lowers BP, Reduces Stress and Helps to Control Blood Sugars
Posted: Thursday, January 25, 2007
Get a dog and just walk it. 1500 dog owners prove it!


Type 2 Diabetics Misjudge Calorie Intake
Posted: Thursday, January 25, 2007
A new study by French researchers found that diabetic obese adults tend to report eating far less than they really do, which researchers say can hamper treatment or management of the disease.


White Wine Just as Healthful as Red
Posted: Thursday, January 18, 2007
Scientists say they have found evidence that the pulp of grapes appears just as heart-healthy in laboratory experiments as the skin.


How to Lose Weight and Keep it Off
Posted: Thursday, January 18, 2007
A team of researchers created the National Weight Control Registry to find out. Using newspaper and magazine advertisements, they identified about 5,000 people who had successfully lost weight and kept it off. Study participants lost an average of 72 pounds. Although some gained back some weight, all maintained at least a 30-pound loss.




Impact of Soda in Childhood Seen in Adolescence
Posted: Wednesday, January 10, 2007
Young children who load up on sugary soft drinks risk developing signs of heart disease and diabetes in adolescence, according to a long-term study in which doctors followed a group of girls from 5 to 13 years of age.


Costa Rica Travel Corp. will donate a portion of the proceeds to and is a sponsor of Defeat Diabetes Foundation.
Send your unopened, unexpired test strips to

:


Defeat Diabetes Foundation
150 153rd Ave, Suite 300
Madeira Beach, FL 33708
DDF advertisement
Analyze nutrition content by portion
DDF advertisement