This site complies with the HONcode standard for trustworthy health information:
verify here.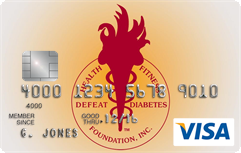 Rewarding for
you and us
Defeat Diabetes Foundation
Defeat Diabetes
Foundation
150 153rd Ave,
Suite 300
Madeira Beach, FL 33708
Health & Fitness
Search our News Articles Archives for diabetes and health news. Search by word or phrase. The latest article will appear first.
Possible To Predict Type 2 in Early Childhood
Posted: Friday, November 16, 2007
It may be possible to predict which kids are most likely to mature into adults with type 2 diabetes - and to nip that risk in the bud. A new study spotlights two key strategies.


Mark Nov. 14 - First United Nations-Observed World Diabetes Day
Posted: Wednesday, November 07, 2007
As National Diabetes Month kicks off, the UN designated November 14 as World Diabetes Day to highlight the chronic disease and promote actions to strengthen public health and health care delivery systems.


Unique Idea: Have Government Subsidize Fruits and Vegetables
Posted: Friday, November 02, 2007
Doctors tell lawmakers to subsidize salads, vegetables and fruit, not fat don't exercise is going to cost them and the taxpayers, plus they will lose years from their lifespan.


Rare Diabetes Foot Complication Becoming More Common
Posted: Friday, November 02, 2007
As diabetes rates soar, doctors with the American College of Foot and Ankle Surgeons say they're noticing more patients developing a rare and dangerous diabetic foot complication. Few patients or their diabetes care providers know of the complication, or its warnings signs.


Reducing Glucose Can Extend Life by 25%
Posted: Friday, October 26, 2007
Life can be sweeter if you cut out the sugar, say German researchers.


Bitter Melon Can Improve Insulin Production.
Posted: Thursday, October 11, 2007
Momordica Charantia is a vegetable which grows in tropical areas like East Africa, Asia, South Africa, and the Caribbean. This vegetable is rich in iron, beta carotene, calcium, potassium, phosphorus and other dietary fibers.


New Blood Test Predicts Future Chance of Diabetes
Posted: Thursday, October 11, 2007
Type 2 diabetes is caused by poor eating habits, hereditary, and lack of exercise. But now, researchers at UCLA say there is another risk factor that doesn't have to do with weight, diet and genes that can help predict who's likely to develop diabetes.


Glycemic Index Too Variable to Be Useful for People With Diabetes
Posted: Thursday, October 04, 2007
In blood glucose responses to a white bread challenge, individual patients have significant variations from test to test and is too variable to be a useful measurement.


Patients Give Up 10 Quality of Life Years, Rather Then Intensely Manage Their Diabetes
Posted: Thursday, October 04, 2007
Many patients with diabetes say that the inconvenience and discomfort of constant therapeutic vigilance, particularly multiple daily insulin injections, has as much impact on their quality of life as the burden of intermediate complications.


A New Magic Pill Gives The Same Results As Exercise
Posted: Thursday, October 04, 2007
A new study conducted on mice at the Salk Institute, reveals the potential for a drug that can give the same results as exercise


Costa Rica Travel Corp. will donate a portion of the proceeds to and is a sponsor of Defeat Diabetes Foundation.
Send your unopened, unexpired test strips to

:


Defeat Diabetes Foundation
150 153rd Ave, Suite 300
Madeira Beach, FL 33708
DDF advertisement
Analyze nutrition content by portion
DDF advertisement