This site complies with the HONcode standard for trustworthy health information:
verify here.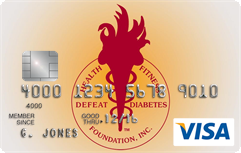 Rewarding for
you and us
Defeat Diabetes Foundation
Defeat Diabetes
Foundation
150 153rd Ave,
Suite 300
Madeira Beach, FL 33708
Health & Fitness
Search our News Articles Archives for diabetes and health news. Search by word or phrase. The latest article will appear first.
Calling Couch Potatoes, Works!
Posted: Thursday, December 13, 2007
Fitness research shows that when a computer talks the talk, even couch potatoes can be persuaded to walk the walk.


"FATNESS VERSUS FITNESS" -- The Final Word
Posted: Thursday, December 06, 2007
Study Finds Fitness Level, Not Body Fat, May Be Stronger Predictor of Longevity for Older Adults. Death rates for those with higher fitness were less than half of rates for those who were unfit.


Diabetes Self-Management Course Improves Health
Posted: Thursday, December 06, 2007
Researchers found that when adults with type 2 diabetes followed an individually tailored self-management program, they were better able to reduce both their weight and blood pressure, and maintain these benefits over time.


Nutrient Composition of Nuts
Posted: Friday, November 30, 2007
Nuts are an excellent snack, but which are the best ones. This excellent guide is from the Pistachio Health website.


Walking 20-30 Minutes Daily Cuts Risk of Strokes and Heart Disease
Posted: Thursday, November 29, 2007
New research suggests that people with type 2 diabetes may lower their risk of heart disease by committing to a daily walk, new research suggests.


Pedometers Continue To Show Benefits in Reducing BMI, Blood Glucose and BP
Posted: Thursday, November 29, 2007
"I think that the BP reduction and weight loss seen with pedometers is remarkable, given that these are small gizmos designed to increase physical activity, not reduce weight", states Dr. Dena Bravata.


High-Glycemic Index Carbohydrates Increase Risk for Type 2 Diabetes
Posted: Thursday, November 29, 2007
Eating foods high on the glycemic index, which measures the effect of carbohydrates on blood glucose levels, may be associated with the risk for developing type 2 diabetes in women, according to two new studies.


Ten Dollar Pedometer Decreases Blood Pressure and Weight
Posted: Friday, November 23, 2007
The use of a 10 dollar pedometer and a Web site that tracked physical activity levels proved to be powerful motivators for people with diabetes who participated in a recent walking study.


Exercise Fights Heart Failure Better Than Drugs
Posted: Friday, November 23, 2007
Exercise boosts the number of progenitor cells in people with heart failure, and those cells in turn repair and rebuild weakened muscle and blood vessels, researchers report.


ADA To Change Thinking On Low Carb Diets?
Posted: Friday, November 23, 2007
Might it be a reality that the ADA might reduce its recommendations of getting most of our calories from carbohydrates? Could it be that they finally recognized that taking more medications rather then reducing the carbohydrates may not be the best treatment for patients with diabetes?


Costa Rica Travel Corp. will donate a portion of the proceeds to and is a sponsor of Defeat Diabetes Foundation.
Send your unopened, unexpired test strips to

:


Defeat Diabetes Foundation
150 153rd Ave, Suite 300
Madeira Beach, FL 33708
DDF advertisement
Analyze nutrition content by portion
DDF advertisement