This site complies with the HONcode standard for trustworthy health information:
verify here.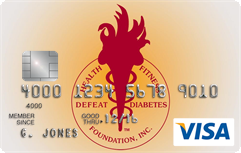 Rewarding for
you and us
Defeat Diabetes Foundation
Defeat Diabetes
Foundation
150 153rd Ave,
Suite 300
Madeira Beach, FL 33708
Health & Fitness
Search our News Articles Archives for diabetes and health news. Search by word or phrase. The latest article will appear first.
Cardiac Abnormalities Seen in Young Females with Poor Diabetes Control
Posted: Tuesday, May 26, 2009
According to the results of a new study, adolescent girls with poorly controlled Type 2 diabetes are more likely to have structural and functional cardiac abnormalities than are their healthy peers or even girls with Type 1 diabetes.


The US Obesity Epidemic is Due Solely to Increased Food Intake
Posted: Tuesday, May 26, 2009
The amount of food Americans eat has been increasing since the 1970s, and that alone is the cause of the obesity epidemic in the US today [1]. Physical activity--or the lack thereof--has played virtually no role in the rising number of expanding American waistlines, according to recent research.


Ultraviolet LEDs Make Lettuce Healthier
Posted: Wednesday, May 20, 2009
Darker leafy greens are known to be higher in nutrients, including antioxidants, than light colored greens. Using ultraviolet electronic light sources, researchers have recently found a way to make lettuce both darker and redder, potentially laying the foundations for a new, and healthier, form of vegetable consumption.


Children Eating Themselves into an Early Grave
Posted: Wednesday, May 20, 2009
Children are eating themselves into an early grave with hundreds of thousands of primary school pupils already suffering from chronic disease, a study has found.


Intensive Medical Intervention Successful in Primary Care Setting for Obese Patients
Posted: Wednesday, May 20, 2009
Patients with extreme obesity achieved 8.3% weight loss after 2 years of intensive medical intervention compared with 0.5% in a control group, according to new research.


Golden Rice Potential
Posted: Saturday, May 16, 2009
"Golden rice," a genetically modified grain that incorporates beta-carotene, has recently shown to help "convert vitamin A" in humans. This finding suggests that golden rice could help prevent vision loss and blindness in people suffering from vitamin A deficiency, especially those in poor, heavily rice-consuming countries. Many poor countries also suffer from high cases of diabetes, which can result in vision loss due to retinopathy.


Calls For More International Diabetes Funding
Posted: Friday, May 15, 2009
At a recent international meeting concerning non-communicable diseases, held in Doha, Qatar, professor Martin Slink, the president of the International Diabetes Federation (IDF), stressed the importance of more funding for diabetes, as well as other non-communicable diseases. Professor Slink specifically urged that an international effort to fight these diseases be added to the United Nations millennium development goals (MDGs).


New-Onset Diabetes in Older Adults Attributable to Lifestyle
Posted: Tuesday, May 12, 2009
Numerous lifestyle factors affect older adults' risk of diabetes, a new study finds. As the population ages, even small changes affect incidence, study finds.


Low Levels of Vitamin D Cause Problems for Acutely Ill Diabetic Patients
Posted: Tuesday, May 12, 2009
A group of endocrinologists in Sydney have observed that very sick patients tend to have very low levels of Vitamin D. The sicker they are, the lower the levels.


Fifty Percent of African Americans Die from Causes that Can Be Prevented or Treated
Posted: Tuesday, May 12, 2009
Two-thirds of the difference between death rates among African Americans and Caucasians are now due to causes that could be prevented or cured, according to a new study.
"People should not be dying prematurely from stroke, hypertension, diabetes, colon cancer, appendicitis or the flu..."


Costa Rica Travel Corp. will donate a portion of the proceeds to and is a sponsor of Defeat Diabetes Foundation.
Send your unopened, unexpired test strips to

:


Defeat Diabetes Foundation
150 153rd Ave, Suite 300
Madeira Beach, FL 33708
DDF advertisement
Analyze nutrition content by portion
DDF advertisement