This site complies with the HONcode standard for trustworthy health information:
verify here.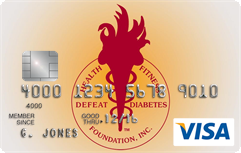 Rewarding for
you and us
Defeat Diabetes Foundation
Defeat Diabetes
Foundation
150 153rd Ave,
Suite 300
Madeira Beach, FL 33708
Health & Fitness
Search our News Articles Archives for diabetes and health news. Search by word or phrase. The latest article will appear first.
Antioxidants Increase Insulin Sensitivity
Posted: Sunday, June 27, 2010
A diet high in antioxidants may help increase insulin sensitivity and enhance the effects of metformin, according to a small study.


White Rice Verses Brown Rice and Diabetes Risk
Posted: Sunday, June 20, 2010
Consuming more white rice appears to be associated with a higher risk for developing Type 2 diabetes, whereas consuming more brown rice may be associated with a lower risk for the disease.


Egg Consumption and Risk of Type 2 Diabetes
Posted: Sunday, June 20, 2010
Study looks at whether eggs can increase the risk for Type 2 diabetes.


Coffee Reduces Risk of Diabetes -- One More Study
Posted: Sunday, June 20, 2010
That cup of joe may be doing more than keeping you awake -- it also may be reducing your risk of developing Type 2 diabetes.


Vitamin E Reduces Cardiovascular Disease in Individuals with Diabetes
Posted: Sunday, June 13, 2010
The study shows that individuals with both diabetes and the Haptoglobin (Hp) 2-2 genotype can benefit from using Vitamin E, increasing life expectancy by 3 years.


Milk after Exercise Promotes Weight Loss
Posted: Sunday, June 13, 2010
A new study suggests that women who want to lose weight should drink fat-free milk and not sugar-based energy drinks.


Experts Advise Beginning Daily Aspirin Later
Posted: Sunday, June 06, 2010
In a change, heart and diabetes groups push age threshold up from 40, to 50 for men, 60 for women.


Diabetes Costs More than $218 Billion and Expected to Rise
Posted: Sunday, May 30, 2010
According to Timothy M. Dall of the Lewin Group in Falls Church, Va., the annual average cost per patient was $9,975 for diagnosed diabetes and $2,864 for undiagnosed disease, "The burden of diabetes to society is even higher when one considers intangible costs from reduced quality of life," the researchers wrote online in Health Affairs.


Eating Processed Meats Can Raise Risk of Heart Disease and Diabetes
Posted: Sunday, May 30, 2010
Eating bacon, sausage, hot dogs and other processed meats can raise the risk of heart disease and diabetes, U.S. researchers said in a study that identifies the real culprits at the meat counter.


People with Type 2 Genes Overeat and Gain More Weight
Posted: Sunday, May 23, 2010
In the first study of its type, Australian researchers have shown that healthy people with a genetic predisposition to Type 2 diabetes gain more weight overeating over the short term than their non-genetically-prone counterparts, when eating the exact same foods.


Costa Rica Travel Corp. will donate a portion of the proceeds to and is a sponsor of Defeat Diabetes Foundation.
Send your unopened, unexpired test strips to

:


Defeat Diabetes Foundation
150 153rd Ave, Suite 300
Madeira Beach, FL 33708
DDF advertisement
Analyze nutrition content by portion
DDF advertisement