This site complies with the HONcode standard for trustworthy health information:
verify here.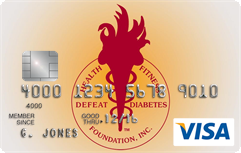 Rewarding for
you and us
Defeat Diabetes Foundation
Defeat Diabetes
Foundation
150 153rd Ave,
Suite 300
Madeira Beach, FL 33708
Search our News Articles Archives for diabetes and health news. Search by word or phrase. The latest article will appear first.
Psyllium as Effective as a Double Dose of Simvastatin in Lowering LDL Cholesterol
Posted: Tuesday, November 30, 2004
"Patients are concerned with the side effects of statins," Dr. Moreyra noted, and they are likely reluctant to take a double dose of the drug. Psyllium is safe, readily available and the treatment is effective and practical, he added.



Surgery Effective in Diabetics with Carpal Tunnel Syndrome
Posted: Tuesday, November 30, 2004
Diabetics with Carpal Tunnel Syndrome (CTS), an acquired entrapment neuropathy causing pain and weakness of the hands, can benefit from surgery suggests research.
Some in the medical community have questioned whether diabetics who undergo surgery for CTS release actually improve.



Too Much Vitamin C Not Good for Diabetics' Hearts
Posted: Tuesday, November 30, 2004
The study, which followed nearly 2,000 postmenopausal women with diabetes for 15 years, found that those who took heavy doses of vitamin C supplements -- 300 milligrams (mg) a day or more -- were roughly twice as likely to die of heart disease or stroke compared with women who took no supplemental C.


Walking Downhill Lowers Blood Sugar, Uphill Lowers Cholesterol Levels
Posted: Tuesday, November 30, 2004
If you are too weak, unfit or heavy to embark on an exercise program, you should try walking downhill. Walking downhill is good for lowering your blood glucose levels, say Austrian researchers. Walking uphill reduces triglycerides - these are important components of cholesterol.



Western' Diet Linked to Type 2 Diabetes in Women
Posted: Tuesday, November 30, 2004
The "Western" diet--one especially high in red and processed meats and refined grain--linked to an increased risk of type 2 diabetes, stroke, colon cancer, and heart disease in women.



Wonder Pill, Rimonabant, Makes You Lose Weight And Keep It Off
Posted: Tuesday, November 30, 2004
Trials have shown that 33% of people on Rimonabant lost 10% of body weight and kept their weight down for two years - this is a record, no other diet drug has managed to keep a person's weight down for so long


Checking Foot Temperature Curbs Diabetic Sores
Posted: Monday, November 15, 2004
Type 2 patients who monitor their foot temperatures at home may be able to ward off developing leg and foot ulcers -- and the infections and amputations that can result.


Diabetes Increases Risk For Liver, Pancreatic Cancers
Posted: Monday, November 15, 2004
People with type 2 diabetes have three to four times the risk of developing liver cancer, and more than twice the risk of developing pancreatic cancer than non-diabetic individuals


First Human Trial of Bioartificial Kidney Shows Promise
Posted: Monday, November 15, 2004
The first test in humans offers hope of the device's potential to save the lives of people with acute renal failure,While the phase I/II study was designed primarily to look at the safety of using this device on humans, the results also suggest improvement in kidney function


Gene Linked To Greater Risk Of Heart Disease In Type 2 Diabetes
Posted: Monday, November 15, 2004
Joslin Diabetes scientist have found variations in a gene that helps explain why people with type2 diabetes are at miuch greater risk for coronary artery disease, the leading cause of death for this group.


Costa Rica Travel Corp. will donate a portion of the proceeds to and is a sponsor of Defeat Diabetes Foundation.
Send your unopened, unexpired test strips to

:


Defeat Diabetes Foundation
150 153rd Ave, Suite 300
Madeira Beach, FL 33708
DDF advertisement
Analyze nutrition content by portion
DDF advertisement