This site complies with the HONcode standard for trustworthy health information:
verify here.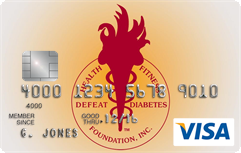 Rewarding for
you and us
Defeat Diabetes Foundation
Defeat Diabetes
Foundation
150 153rd Ave,
Suite 300
Madeira Beach, FL 33708
Search our News Articles Archives for diabetes and health news. Search by word or phrase. The latest article will appear first.
High- and Low-Carb Diets Produce Similar Results
Posted: Tuesday, November 30, 2004
A rare head-to-head comparison of a high glycemic index (GI)/high-carbohydrate diet with a low-GI/low-carbohydrate diet resulted in comparable weight loss and increase in insulin sensitivity. "If people consume a healthy diet that is calorie restricted, they are going to lose weight, and the quality of the carbohydrates doesn't really matter,"


Inadequate Footwear Triples Risk For Diabetes Amputation Risk
Posted: Tuesday, November 30, 2004
Amputation risk was tripled by going barefoot, doubled by wearing sneakers regularly to work, increased fourfold by wearing sneakers to town, and doubled by wearing rubber thong sandals


Increased Chromium Absorption Linked with Reduction in Cardiovascular Risk Factor
Posted: Tuesday, November 30, 2004
A new randomized, double-blind, placebo-controlled study found a significant correlation between increased urinary chromium levels -- a measure of chromium absorption -- and reductions in cardiovascular disease (CVD) risk factors, including total cholesterol, triglycerides, LDL cholesterol and lipid ratios in people with type 2 diabetes.




More Than Half of Adult Diabetics in US Are Obese
Posted: Tuesday, November 30, 2004
The CDC found that between 1999 and 2002, 54.8% of diabetics over the age of 19 were obese. An increasing number of American adults diagnosed with diabetes are obese, making it more likely they will develop cardiovascular disease, retinopathy and other health problems, U.S. officials said.




New Drug May Be Better Than Aspirin for Diabetics
Posted: Tuesday, November 30, 2004
A new drug called picotamide appears to be a more effective blood-thinner than aspirin for people with diabetes.
Previous research has suggested that aspirin may not work as well for diabetics in preventing vascular events, such as heart attacks or stroke, as it does for other people


Newer Beta-blocker Coreg Safer for Diabetics
Posted: Tuesday, November 30, 2004
The beta-blocker blood pressure medicine Coreg proved significantly better in keeping blood sugar levels from rising in diabetics than metaprolol, another widely used member of the beta-blocker family


Normal Blood Pressure May Not Be Optimal - How Low Should It Go?
Posted: Tuesday, November 30, 2004
By reducing BP still more, patients were protected from heart attacks, cardiac arrest, angioplasty, hospitalization for chest pain, and death. Every 16 heart disease patients with normal blood pressure who received drugs to lower it, one adverse event was prevented over a two-year period.



People And Pets Succeed In Fighting Obesity And Diabetes
Posted: Tuesday, November 30, 2004
Over 60 percent of adult Americans are now overweight or obese, and an estimated 30 million cats and dogs in the U.S. are overweight or obese, that's 25 percent of the pet population! The P-Pet Study demonstrates that people and their pets are both more successful in staying with a weight loss program when they exercise together.



Pioglitazone Shown to Reverse Thickening of Carotid Artery Wall
Posted: Tuesday, November 30, 2004
New studies have shown that the drug pioglitazone (ACTOS®, Takeda) significantly reduced the thickness of the carotid (neck) artery in patients with type 2 diabetes. By contrast, no change in carotid thickness was seen in a group of patients who received glimepiride, an older drug for type 2 diabetes


Preemies Prone to 'Pre-Diabetes'
Posted: Tuesday, November 30, 2004
Children who are born prematurely, regardless of their actual birth weight, will have a 30% reduction in insulin sensitivity -- a pre-diabetic condition that can lead to full-blown diabetes


Costa Rica Travel Corp. will donate a portion of the proceeds to and is a sponsor of Defeat Diabetes Foundation.
Send your unopened, unexpired test strips to

:


Defeat Diabetes Foundation
150 153rd Ave, Suite 300
Madeira Beach, FL 33708
DDF advertisement
Analyze nutrition content by portion
DDF advertisement