This site complies with the HONcode standard for trustworthy health information:
verify here.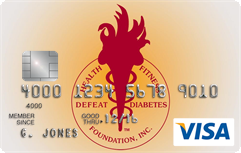 Rewarding for
you and us
Defeat Diabetes Foundation
Defeat Diabetes
Foundation
150 153rd Ave,
Suite 300
Madeira Beach, FL 33708
Search our News Articles Archives for diabetes and health news. Search by word or phrase. The latest article will appear first.
Diabetic Women More Likely to Have Cardiovascular Death and Insufficient Treatment
Posted: Tuesday, July 08, 2008
In the past few years, there has been an observed decrease in deaths resulting from cardiovascular disease (CVD) in both men in women. For those with type 2 diabetes though, which is a major risk factor for CVD events (heart attacks and strokes), this mortality decrease has only been seen in men. A recent study has set out to discover why this decrease did not occur in diabetic women, who have always had more CVD fatalities then diabetic men, as well.


Slow Exercise Shown to Benefit Menopausal Women
Posted: Monday, July 07, 2008
As one ages, strenuous exercise becomes increasingly more difficult. According to a recent study, a new exercise regimen that involves slow and deliberate movements with fewer repetitions, appears to be more beneficial for menopausal women than more conventional exercise regimens. This finding might translate over to other individuals of advanced age.


Mechanism Found Linking Hypertension to Diabetes
Posted: Saturday, July 05, 2008
Hypertension, or high blood pressure, has been closely linked in past research to the development of diabetes. Recent research has found a molecular mechanism that may explain why these conditions, and others, are so closely linked.


Unhealthy Diet During Pregnancy Could Have Long Term Effects on Offspring
Posted: Friday, July 04, 2008
In addition to drinking, smoking, and doing drugs, eating an unhealthy diet while pregnant could have long term effects on one's offspring. A recent study suggests that serious conditions such as heart disease and diabetes develop more often when one's mother consumes unhealthy foods while pregnant.


Green Tea Helps Prevent Heart Disease Risk Factor
Posted: Friday, July 04, 2008
The dysfunction of certain cells that line the circulatory system is known to help lead to a progression of heart disease. Green tea consumption was found in a recent study to help prevent this heart disease risk factor.


Only Systolic Pressure Matters In Hypertensive Patients Over 50
Posted: Thursday, July 03, 2008
Measure and diagnosis of hypertension should focus exclusively on systolic blood pressure in patients aged over 50 years, rather than using both systolic and diastolic as is current practice, according to a Viewpoint published online June 18 in The Lancet.


Vaccine Prevents and Reverses New-Onset Diabetes
Posted: Thursday, July 03, 2008
A novel microsphere-based vaccine targeting dendritic cells prevents and reverses new-onset autoimmune diabetes in a mouse model, according to a report in the June issue of Diabetes.


Aerobic Exercise Increases Protein That May Suppress Appetite
Posted: Thursday, July 03, 2008
In a small study of overweight and obese adults, 3 months of aerobic exercise, with no change in diet, led to a significant decrease in body fat and a spontaneous decrease in caloric intake. The percentage of weight loss and the reduction in caloric intake correlated positively and significantly with concentrations of brain-derived neurotrophic factor (BDNF).


Physical Activity May Alter Diabetes Link to Breast Cancer
Posted: Thursday, July 03, 2008
Physical activity may help counter the adverse effect diabetes seems to have on breast cancer risk in Hispanic women.


15% Increase in Diabetes in 2 Years - Nearly 24 Million People
Posted: Thursday, July 03, 2008
New government estimates show that nearly 24 million people, 8% of the population in the United States have diabetes, an increase of more than 3 million in two years.


Costa Rica Travel Corp. will donate a portion of the proceeds to and is a sponsor of Defeat Diabetes Foundation.
Send your unopened, unexpired test strips to

:


Defeat Diabetes Foundation
150 153rd Ave, Suite 300
Madeira Beach, FL 33708
DDF advertisement
Analyze nutrition content by portion
DDF advertisement